Throw in a $28M construction project and a few routine upgrades, and there are bound to be more challenges, particularly unearthing a portion of the storage ring and tapping three new beamline holes into the Cornell Electron Storage Ring, CESR. These three new connections - and the large construction project they accompany - are all part of the New Experimental Hall. This ongoing construction project at Wilson Lab will house the High Magnetic Field Beamline and up to four additional beamlines.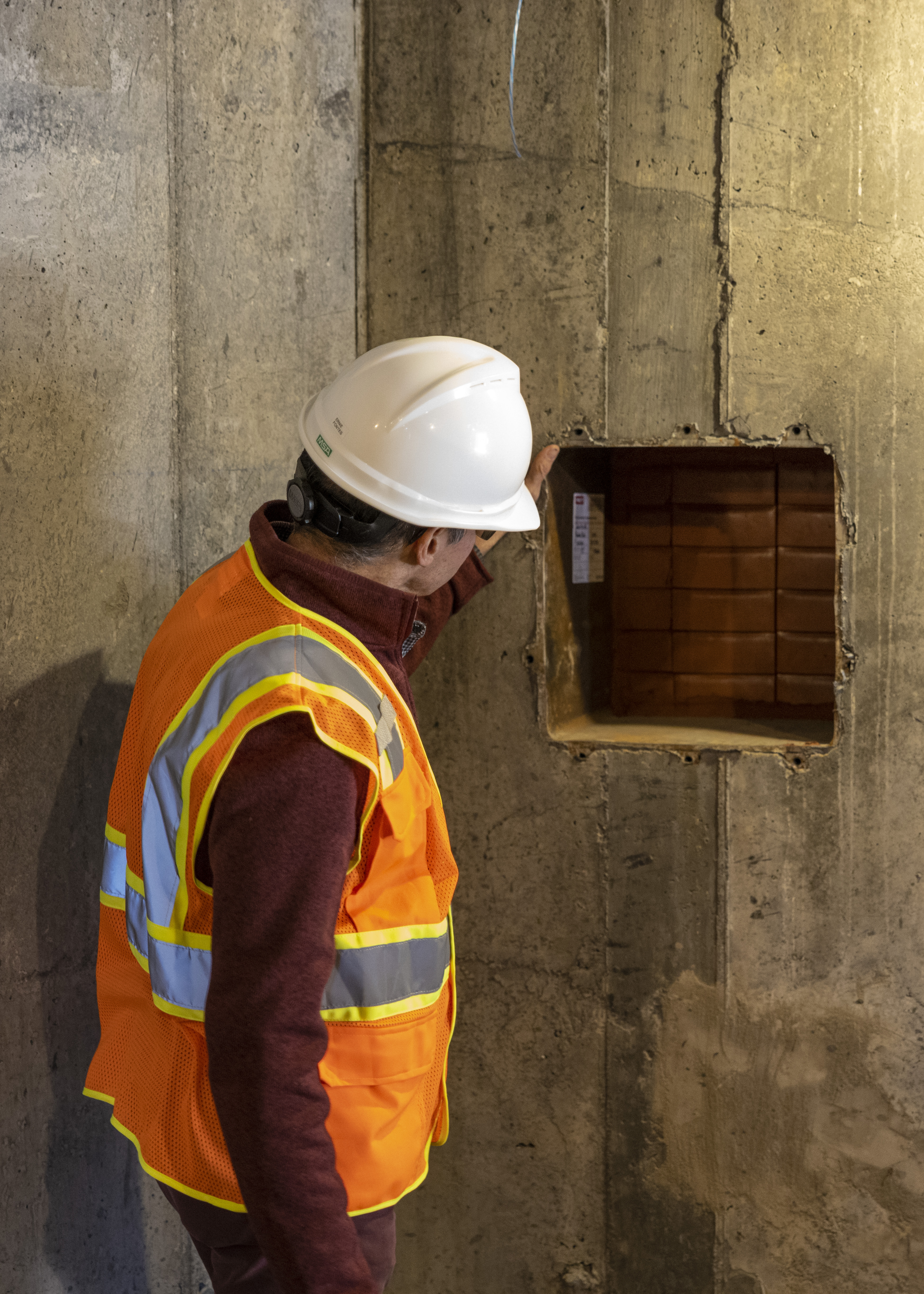 The CESR tunnel and new connections have since been reburied and are precisely in place. However, getting there took much work, especially with a tight deadline to return to user operations. A carefully coordinated effort was needed between the accelerator teams at Wilson Lab, the CHESS technical staff, and the construction crews.
As users have officially returned for the Fall run, these teams can now take a deep breath after this thoroughly organized effort.
Overcoming Site challenges
The New Experimental Hall, NEH, is being constructed directly adjacent to Wilson Lab, into a hill between Cascadilla Creek and Campus Road. This new building will create an expansive hall for sectors 4, 5, and 6 of CHESS and is only one of a few areas where new beamlines can be placed tangentially to the ring. Yet the location is far from ideal, and dealing with a buried CESR can be difficult.
"Coming up out of the dirt is the most nebulous part of the journey," says Alex Chevellard, Cornell University project manager overseeing the project's construction. "Things above ground can be seen – available factors can be interacted with immediately. However, things in the soil are more of a treasure hunt, and you have to react to it."
Chevellard explains that Cascadilla Creek was actually "moved" during the original Wilson Lab construction in the 1960s. Architectural and geological drawings from this era were crucial to help pinpoint the bedrock's location and point out any surprises hidden below ground. However, these drawings only partially represent what the crews found.
"The old creek bed wasn't where we thought it would be. The old drawings were off by about 16 feet, and we needed much more concrete to reach down to bedrock," says Chevellard.
CESR itself is buried 40 feet below the Cornell campus. While the last time CESR saw sunlight was in 2000 for the G-Line addition (now called Sector 7), it has been chiefly safe and snug under a bed of dirt for the past 50 years. While adding to the difficulties of developing the ring, this 40-foot safety blanket of earth provides much-need radiation shielding during operations.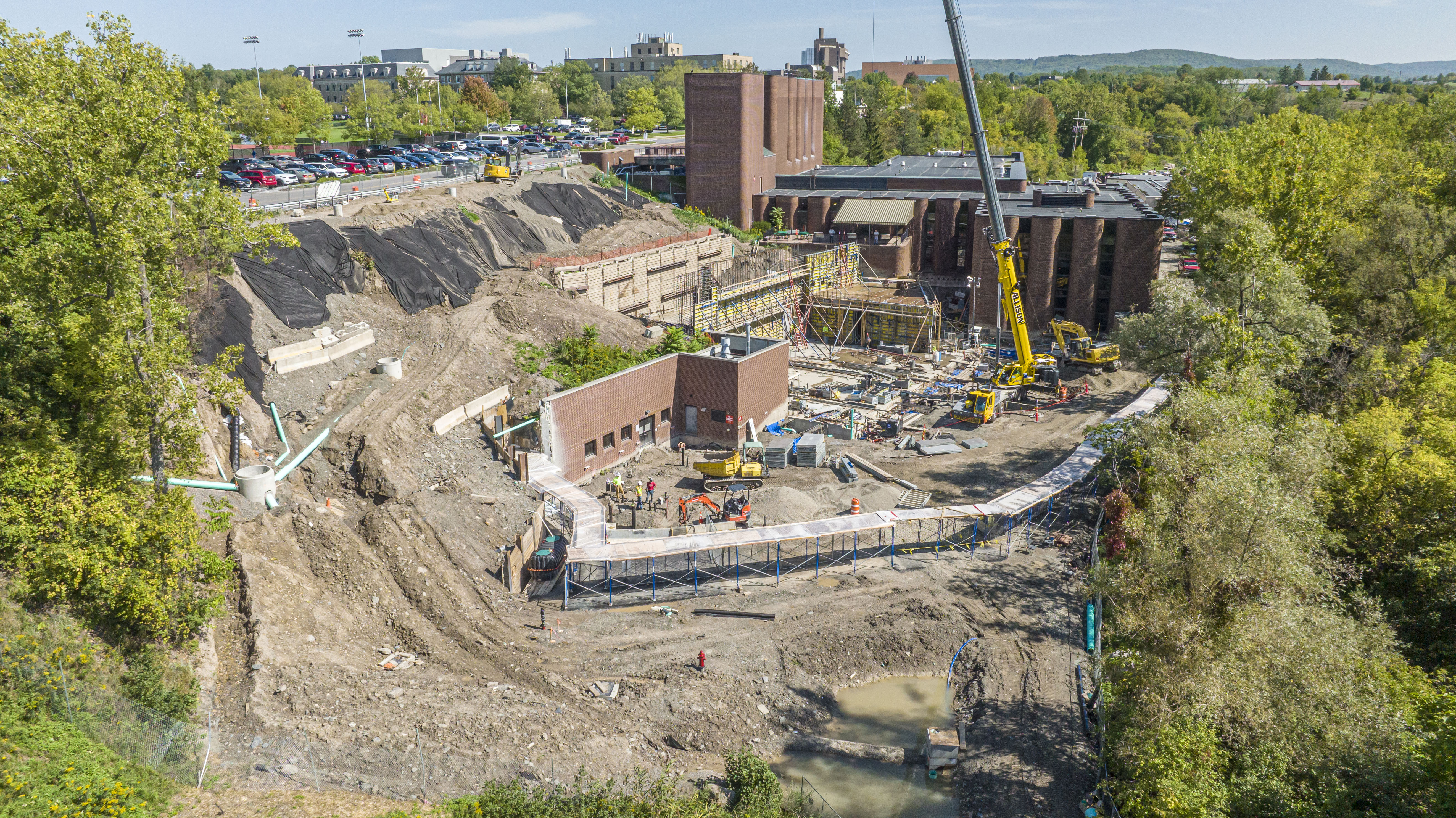 "Our biggest milestone was October 5th," says Chevellard. "This was the reactivation of the ring, and everything we did this summer drove us toward that date." CESR was sufficiently covered on October 5th, but the radiation levels still needed to be measured during a 100mA CESR operation.
It was a catch-22. To measure the effectiveness of CESR's new safety blanket of dirt, CESR must operate at 100mA. But, doing this could compromise the safety of the construction crew. The decision was to secure the area within CESR and the whole construction site.
Construction crews would work during the day, and the CESR teams would perform their work at night. CESR teams could find the correct orbit for CHESS user operations while the construction site was vacant and blocked off. They would then leave in the morning, and radiation surveys were performed before construction crews arrived for the day. This delicate dance continued for almost two weeks until CESR orbit was corrected using 100mA, and crews could safely return to the construction site.
This marked the first time in 23 years that a radiation survey had to be performed inside a construction site, the last time being during G-Line construction. But the affected area was much larger this time than 23 years ago, and included the entire shield wall spanning the length from Wilson's third floor patio to Sector 7. The height of the area to be surveyed was also a challenge -- for the first time ever, the survey crews has to complete aerial work platform (or "man lift") training in order to reach portions of the shield wall over 18 feet in height.
Like a Treehouse on Stilts
As an onlooker of the construction project has probably noticed and asked, 'does it need that much rebar?' Alex Chevellard says it does.
"There is a consistency to the design that underlays the ability to reach a floor flatness and levelness across such a large area that is necessary for purposes of the scientific program." 
Tapping into bedrock was essential for the pristine requirements of the New Experimental Hall. The floor will house a 20-tesla magnet weighing over 4 tons and support some of the most sensitive experiments ever run at CHESS. The floor must not move.
"Scientists at CHESS are looking at submillimeter samples," says Ernie Fontes, Project Manager for the High Magnetic Field Beamline. "They look at atoms and molecules, and these things are small! So, if they are shaking from minute vibrations while operating, we cannot see them."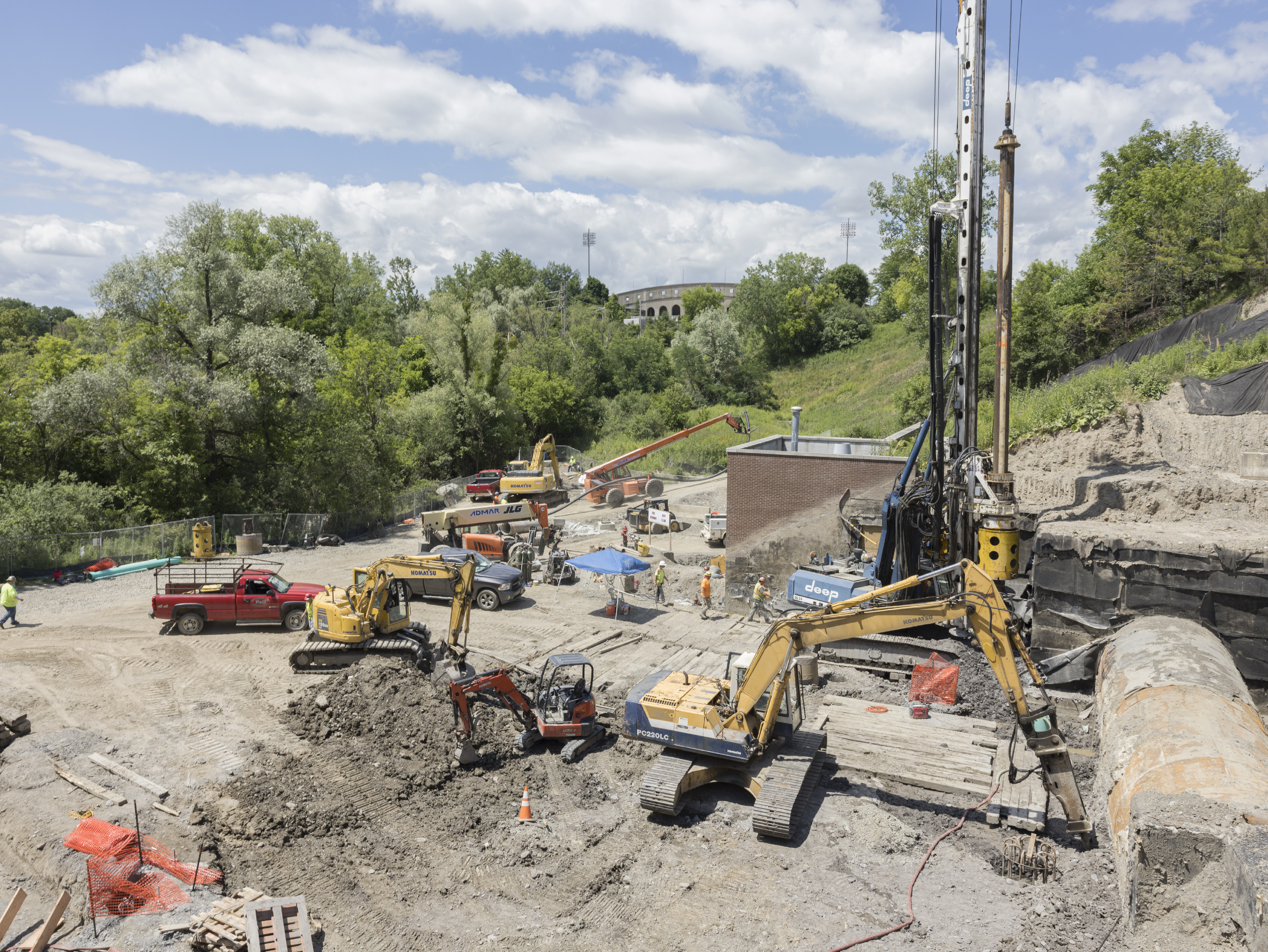 To meet this consistency, Chevellard says the design of the building has been created as a 'tree house on stilts,' with 47 concrete pillars going straight down to the bedrock. A whole network of grade beams connects these pillars, supporting the concrete and keeping a consistent level and floor.
The new 15,689sf facility will provide much-needed space for a new state-of-the-art High Magnetic Field (HMF) beamline and four additional experimental stations at the X-ray facility.
The New Experimental Hall will increase CHESS's experimental floor by 50% and provide space for 4 additional beamlines (beyond the HMF beamline). Each additional beamline adds significant operating support for CHESS. Funding agencies are already inquiring about opportunities to construct other new X-ray facilities in the NEH.
This project will make CHESS the world leader in structural studies of materials in high magnetic fields.
CESR Rises
CESR was exposed for about four months this summer, allowing the crews to cut into the tunnel and create several new openings. "What kept me up at night was cutting the sector six hole into CESR," says Jerry Codner, the CLASSE RF Group leader. "I was impressed by the angle this crew needed to cut, and the fact that it was right next to our SRF cavity really made me nervous. But they did a great job.".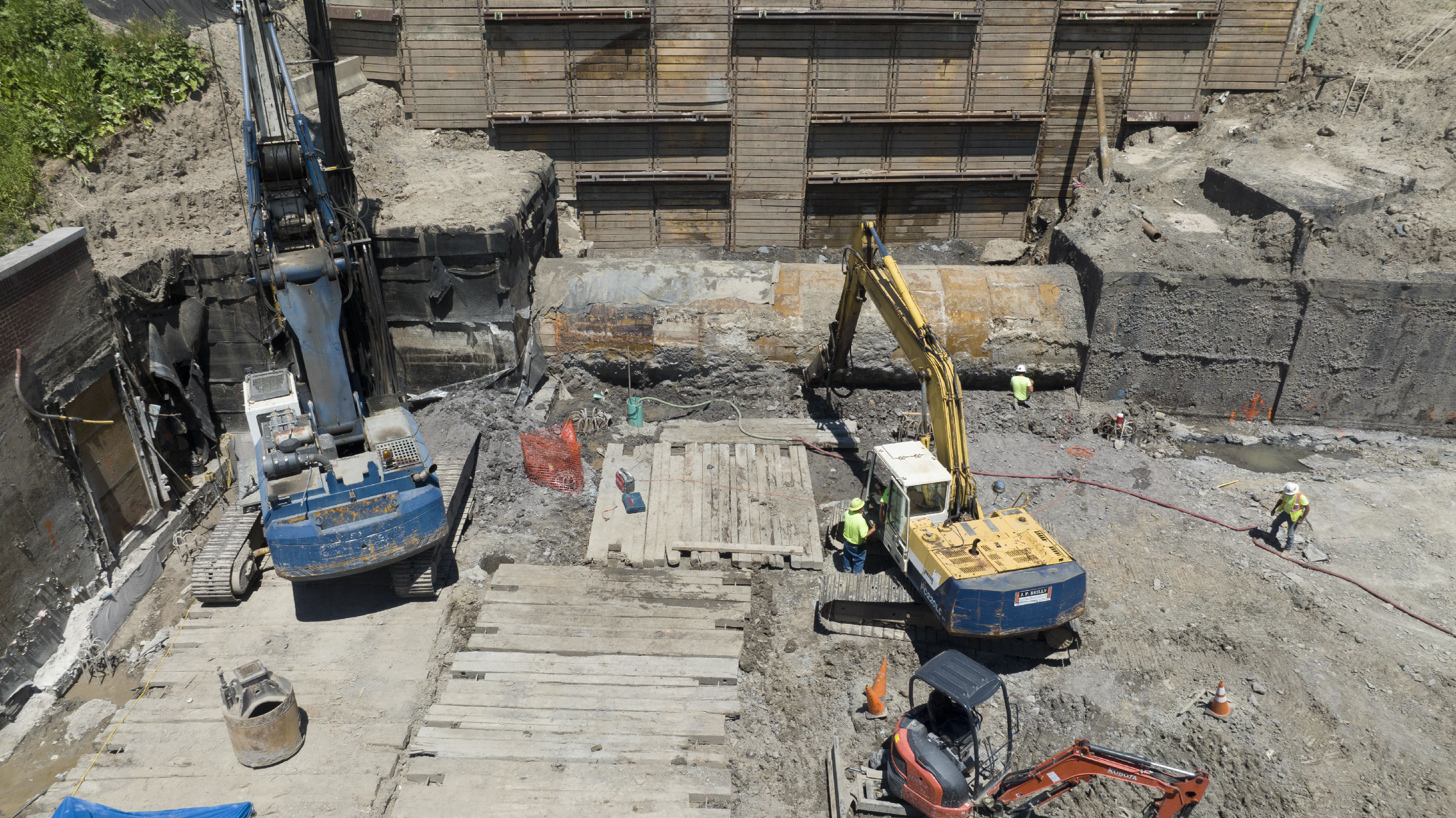 Detailed tunnel surveys were performed before, during, and after the earth was removed from CESR. These routine inspections give a baseline for placing the magnets around the ring. Based on these measurements, the survey team can make any corrections needed. After CESR was unearthed, the survey team revealed that the exposed portion of the ring raised two millimeters. This menial amount complicates the tight tolerances of the unique magnets around the ring. Still, it isn't enough to phase the survey team.
"I wasn't really surprised," says Dragana Jusic, CLASSE and Wilson Lab Surveyor. "I actually thought it would move a lot more." After the final survey was performed and a new baseline of CESR was created, Jusic moved and repositioned the magnets of CESR.
"In theory, I have moved the magnets back to their original locations," she says. But in practice, that may not be entirely true." Jusic says that she will measure the tunnel again during the winter down, and she expects some more movement.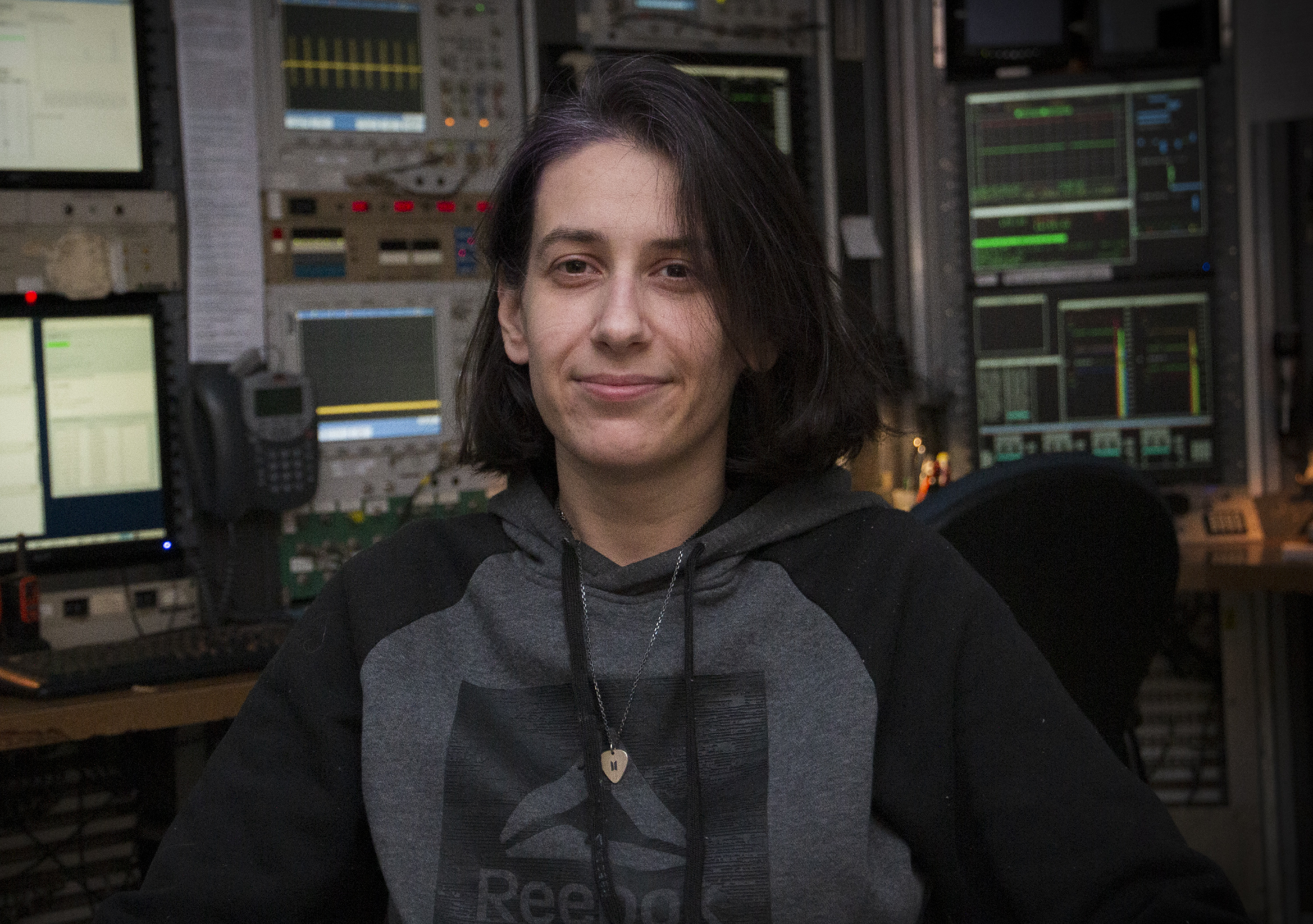 Even though it is a light source, there is no "switch"
"Shutting down CESR and getting it back up to operating parameters is not as easy as flipping on a switch," says Codner. "Anytime we bring the machine up to ambient temperature, there is a risk that something could break. A seal could bust, and we lose vacuum. A hose could fail, and we lose cooling. There is always a risk of something going wrong."
CESR allows separate and total control of every steering magnet in the ring. It has complete flexibility. This allows researchers to develop different optics and bunch patterns within CESR. But, as John Barley, the CESR Technical Director, explains, this means much more hardware to take care of. "Since every magnet has its own circuit controls and switching units, there are multiple pieces of hardware for every magnet," says Barley. "But these are all components we can fix and build in-house, creating lots of spare parts, which always come in handy."
Barley explains that more than just the spare parts keep CESR and CHESS operating smoothly. "Every system you see has someone's name attached to it," he says. "That is the culture of this lab."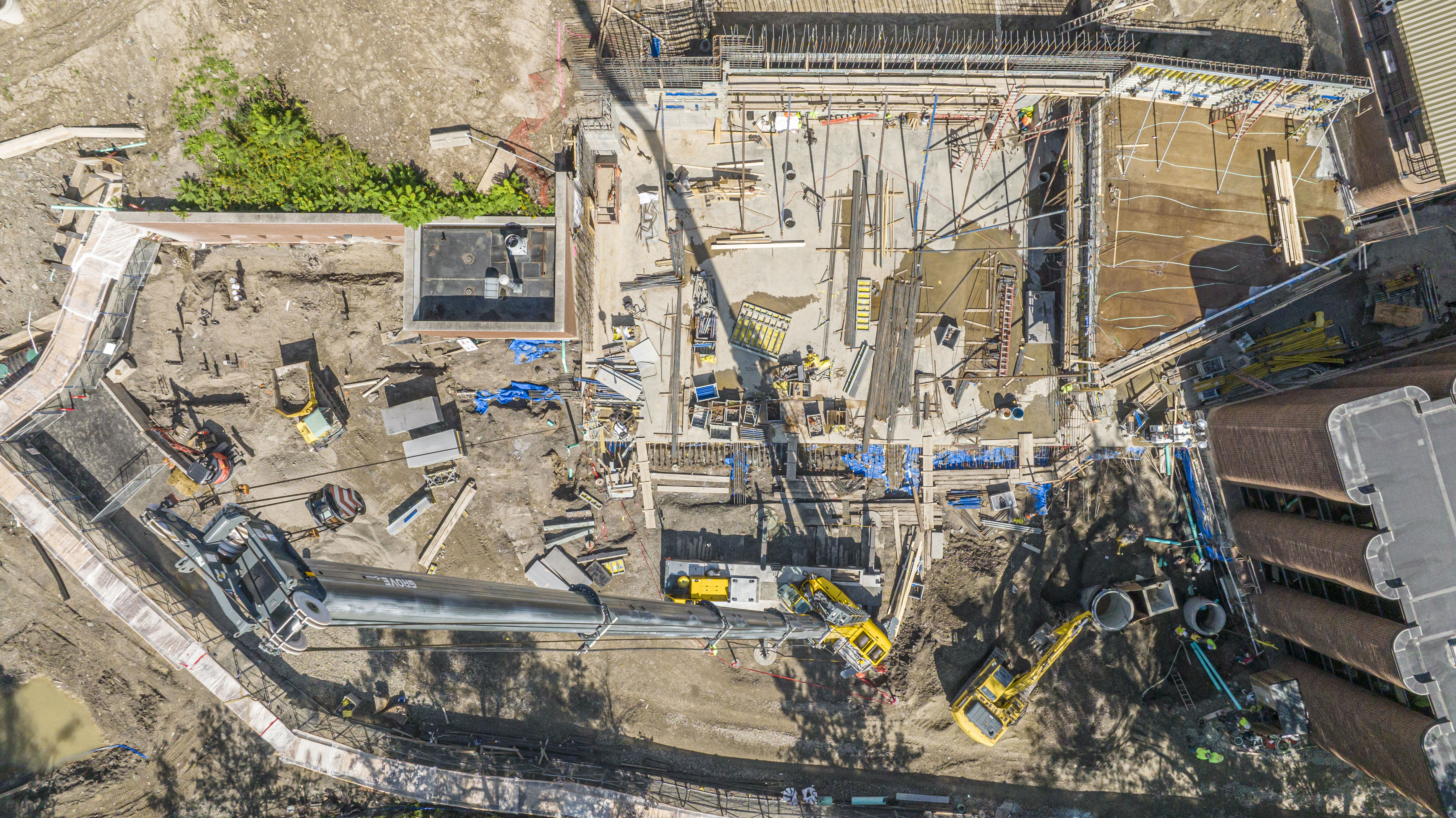 With all the spare parts and wonderful people at the lab, Barley says he was still a little worried about the construction project and restarting CESR. "The movement of the tunnel was a concern," says Barley. "Dragana's job is never-ending," he adds. "She is always adjusting magnets, keeping them where they need to be. Some quadrupoles needed to be moved, so our conditions are not the same as they were. But that has all been worked out".
While this may seem like old hat for the CHESS/CESR teams, working with a committed construction crew was a unique process. "Every single day was accounted for, spread over 4 months," says Fontes, "We spent a whole year just developing the 4-month schedule. And the construction crew has been amazing."
One Last Challenge
After this tight schedule was met and everything was put back into its rightful place, there was one last challenge for the team. While installing an undulator array in CESR, a bulge was discovered on the thin wall section of the vacuum chamber. The chamber was still holding vacuum, but it needed to be replaced.
The alignment of the CHESS beamlines was pushed back while a spare chamber was installed, but it took several days. Now the beam is up, and users are officially back at CHESS.
Unstringing and restringing a piano during a live concert.
Construction of the New Experimental Hall still continues. Chevellard explains that in almost every way, CHESS operations and construction are now insular. However, there are still challenges for Sector 7, as all of the utilities that serve this area of CHESS need to be replaced simultaneously while user operations are happening.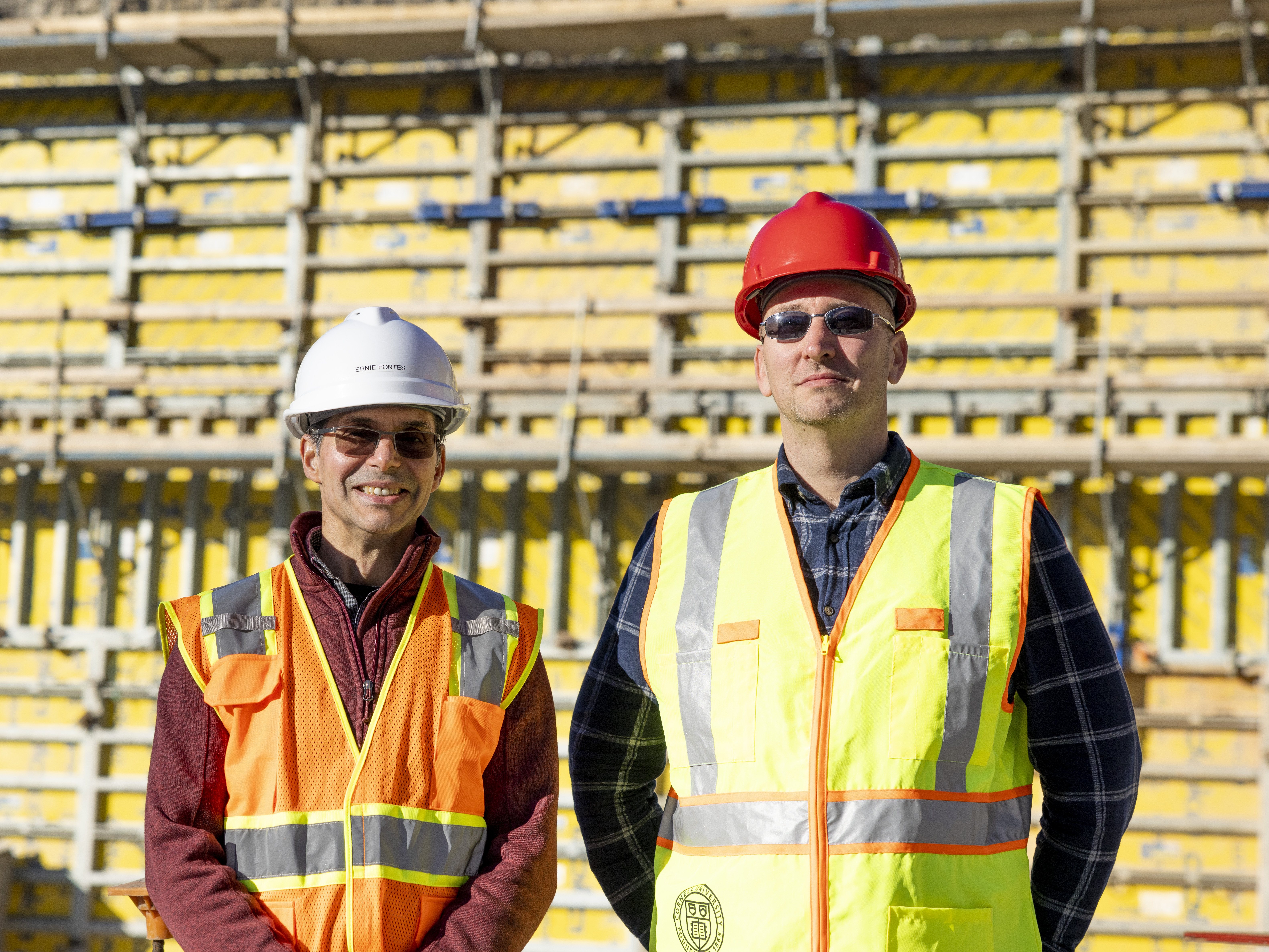 But Chevellard says he is not too worried about any hiccups that this may cause.
"If everything had gone perfectly right, and the documents had translated immediately into what was intended, as per the schedule, this would have been very challenging," says Alex Chevellard. "And so many things did not go right, and we yet we endeavored to persevere, which speaks well to the program's ability to adapt and communicate, as well as the contractors' tenacity."
"It's good stuff," he adds.