Poster Slam! 
This fast-paced poster slam allowed each presenter just one minute and one slide to introduce their poster to all participants! Watch it below!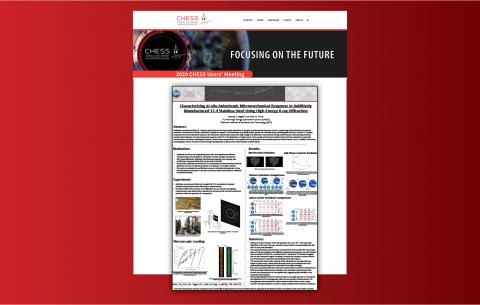 Poster presenters joined a virtual poster session in small groups to discuss their research. A CHESS scientist moderated each session, and breakout rooms allowed for one-on-one interaction with the poster presenter.
POSTER SUBMISSION: 
The virtual poster session took place on June 9th, 2020, and consisted of three segments:
Poster Slam - June 9th at 4pm: Each poster presenter had 1 minute and 1 slide to introduce their poster to all Users Meeting participants in a plenary session.
This is a great way to convey excitement for your research in 60 seconds.
Please provide a slide (using the template) by Wednesday, June 3 at 4pm to the CHESS Users Office
We will compile the slides of all presenters into one presentation and have them ready (with a schedule of presenters) for the poster slam. When your slide is shown, please introduce yourself and your research. Please make sure you are ready, with microphone and video for this portion! We will be muting/unmuting as needed. A clock will be ticking!
Participation in the poster slam is mandatory for presenters who want to be considered for the CHESS Poster Awards but optional for presenters who are not competing for the poster awards.
Poster Session - June 9th at 5pm: Short presentations and Q&A instead of traditional posters.
Poster presenters will join a virtual poster session in small groups and a CHESS scientist will moderate each session. Please check here for your session assignment on the day of the meeting.
Each presenter will have 5 minutes to show their research. Since posters are difficult to show on a typical monitor using ZOOM, presenters are asked to prepare 5 slides (or however many they wish) that they can present in 5 minutes during the "poster" session. Feel free to use the template provided, or use your own template!  Five slides is just a guideline, feel free to present just one slide during your five minute presentation)
There will be additional time for Q&A.
Please be prepared to "bring your poster" and share your screen with your poster presentation during the Zoom meeting. There is no deadline for submitting your poster for the poster session, other than the session itself. 
Zoom links for the poster session will be provided the day of the poster session on the CHESS web site.
Poster Presentation on CHESS Website. 
For interested poster presenters, CHESS offers the possibility to display the "poster presentations slides" on the CHESS website for 2 weeks following the Users' Meeting. 
Please email your poster presentation slides to the CHESS Users Office by June 10th if you want them to be posted on the CHESS website.
 
CHESS Poster Awards
The CHESS Poster Awards recognize outstanding poster presentations during the CHESS Users' Meeting based on research performed at CHESS. Details are here.
Tips on Virtual Etiquette (external link) 
 Download "Poster Slam" Template HERE.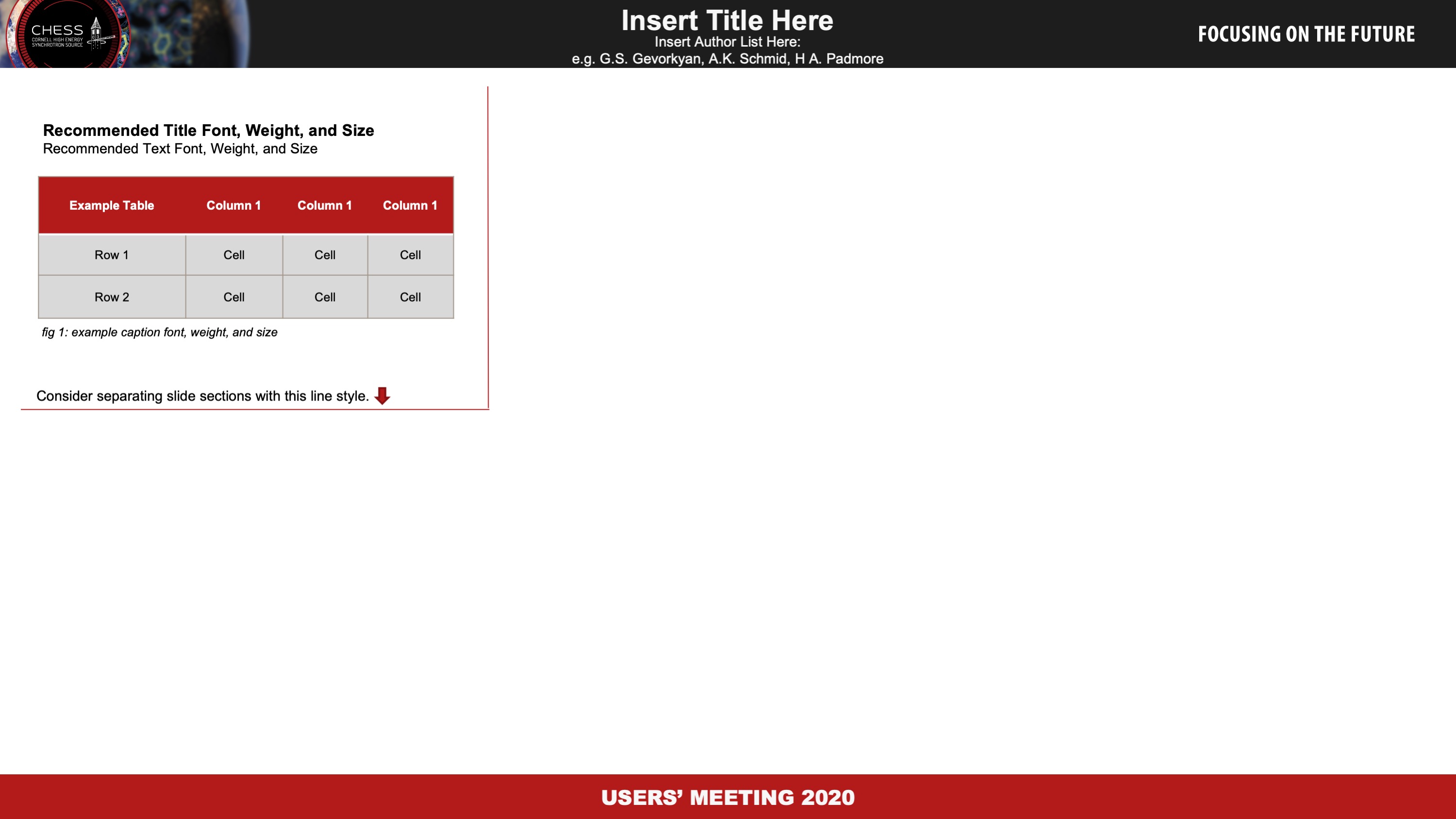 Click to enlarge/download.