What is the biggest distraction you have at home, and how do you deal?  
I've been struggling with not being as mobile as I am used to. To help me cope, I've found that changing up the location of my designated workstation has helped me stay more focused. For the past few days, I've moved my desk out to my three-season porch. The fresh air and sunshine has helped a lot! 
Do you have any tips (life hacks) that you would like to share about working from home? 
I've found that keeping my weekday structured as normally as possible has helped me feel my best. For example, despite not having a 40 minute morning commute, I still wakeup to my usual weekday alarm. I've found that staying in sync with my routine makes me feel more motivated.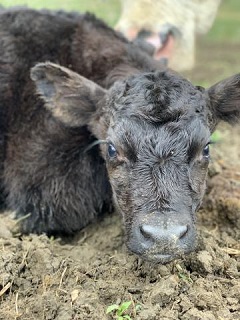 What hobby or project are you currently pursuing?  
Work-wise: The past few weeks I have been catching up on some CHESS-U Personnel Protection System documentation. Something that has been on my must-do-list for quite awhile. 
Non work-wise: Lots of new calves!
What Aimee is most proud of in her work
My ability to learn things. I'm usually not satisfied if I don't have at least a rough understanding of how something works.
What Aimee enjoys about working remotely
I enjoy not having to commute on Route 79!
What excites Aimee in her work
I become excited when I can report in my Elog note, "User happy." This mean that I solved a problem for that person and they can now proceed with their research.