Experiments using high pressure are not routine; they always involve MacCHESS staff. For crystallographic experiments non-frozen crystals are required.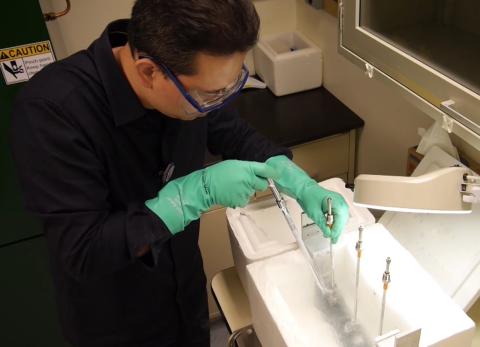 HPC in general
Pressure-cryocooling will be done by trained MacCHESS staff.

Users must provide:

At least 9 non-frozen crystals.

Information on crystallization conditions (not required, but helpful).

Information on diffraction quality at ambient temperature and pressure (if available; very helpful to assess how much HPC may help you).

Shipping Dewar if HPC crystals are to be returned to you (e.g. for use elsewhere than CHESS).
How to get crystals to CHESS
Bring crystallization trays containing crystals to CHESS (preferred).

Ship plates containing crystals to CHESS. The Mitegen In Situ-1 plates are suitable for this purpose.

Send protein and crystallization conditions to CHESS and have our staff grow crystals here (least stress on crystals, but requires more time and crystals might not grow as expected). If growing crystals requires significant investment of time by staff, the project may be considered a collaboration.
For gas-trapping using HPC
Must be approved well in advance; not all gases are acceptable, for safety reasons.

Must be done in collaboration with MacCHESS staff, because experimentation is usually required to find the optimum pressure and time to use.
Diffraction data collection
After high pressure cryocooling, crystals are stored in liquid nitrogen (mounted on 18 mm pins in standard Hampton bases). Diffraction data may be collected as for any other cryocooled crystals, except that annealing is not possible. The crystals will explode if allowed to warm up.

Crystals will be stored at CHESS until your beamtime. If you have no CHESS beamtime, or prefer to collect data elsewhere, we can ship the pressurized crystals to you.
High Pressure BioSAXS
For High Pressure BioSAXS experiments, contact Richard Gillilan.
In some cases experiments will be collaborative efforts and MacCHESS staff will expect to be included as authors on resulting papers.