It is possible to collect data using the MacCHESS beamline from a remote networked connection.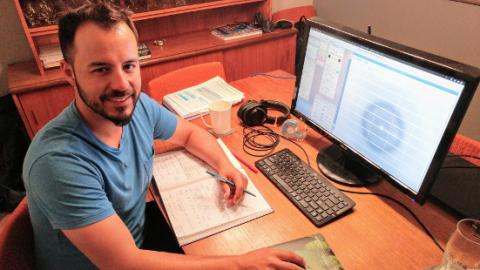 Remote users of ID7B2 should read the CHESS Remote User Guide.
This document will concentrate on additions and exceptions to that. 
Automounter
Remote data collection will require the use of the BAM-2 automounter. Users should be familiar with automounter use and sample holder requirements. Samples must be shipped to MacCHESS in ALS, UNI or MSC pucks. MacCHESS has loaner kits for users who do not have their own pucks and tools. If you need a loaner kit, be sure to request it sufficiently in advance to allow us to ship the kit, and for you to familiarize yourself with the tools and load your samples.
Be sure to ship your samples to us sufficiently far in advance. Allow for weather and other sources of shipping delays.
If you are collecting data we will also want a phone number and e-mail address for contact during your beamtime.
If you need training in data collection or automounter use, let us know and we will try to set up a remote training session in advance of your beamtime.
Remote desktop connection
To collect data at ID7B2, a remote user will use NoMachine remote
desktop client software. Follow instructions at the CHESS
Remote User Guide.

If you cannot make a connection using the NX protocol, try the SSH
protocol which is sometimes better with firewalls.

When you are connected to the CLASSE NoMachine Cloud Server, you will
see an array of possible connections. If you are testing, choose
"nomachinetest." Exit by closing the window (usually this means choosing
the 'X' at the upper right corner of the window frame).

For data collection at ID7B2, choose "Landline."
Once connected to landline, you will see icons for possible desktops.
Choose "Physical display, chess_id7b2, Linux desktop on :0".
Occasionally this may not show up due to a bug. If that is the case,
poke around until it does become available.

Pro tip: If your viewing window is smaller than the physical desktop, it
will have scrollbars to allow you to navigate the full desktop. When
your mouse pointer approaches the edge of the viewing window, the view
may automatically scroll away from where you had it positioned. If you
find this as annoying as I do, you can change this behavior by adjusting
a setting in your NoMachine client. See How to stop automatic scrolling.
Beamline operation
Operation of the ADX software for data collection is the same as for on site use.
The automounter is controlled from the ADX "Manual Control" panel. Some automounter commands, such as defrosting the gripper, take time. Allow for this.
Remote users will miss out on some cues such as PA announcements, audible feedback and CHESS control panel indicators. Webcam views are available in the Firefox browser home page to assist you in keeping track of the automounter state and visually verifying mounts and dismounts. It will be useful to open a second tab in the browser to keep an eye on the CHESS scoreboard. This will help you maintain awareness of CESR outages.
Some beamline configuration, such as switching between collimator and compound refractive lens, must be done by MacCHESS staff.
Streaming video uses a lot of bandwidth and can negatively impact the feasibility of remote collection. To make this work we reduce video bandwidth in two ways:
The MacCHESS Crystal Centering Interface has a special setting for "Client Remote Delay," which can be found under the "Visual Aids" menu. Normally the centering interface runs at 7.5 frames per second. For remote operation, the Client Remote Delay is turned on and set to one frame per 2 - 2.5 seconds. This setting is preserved if the centering software is restarted.
The webcams inside the hutch typically run at five frames per second for on-site automounter users. For remote operation these are slowed to one frame per second. This must be done by MacCHESS staff. Once they are set, they should maintain their frame rate unless there is a power outage.
Streaming video only uses bandwidth if it is actually displayed. If your connection is sluggish and you are trying to figure out why, minimizing the video windows is a good place to start.
While using NX, keyboard and mouse input can come from either the local desktop or your remote NX window. Please do not hijack the mouse while MacCHESS staff are performing alignment or maintenance.
Landline is loaded with all of the usual crystallographic software found on the MacCHESS data processing workstations: CCP4, Phenix, XDS, etc. If you are going to process your data on landline you will probably want to use a separate desktop. On Linux, the icons to switch between desktops are found in the lower right corner of the screen.
Use of the remote desktop service will have to end when your beam time ends, but you may continue to connect via SSH or RSYNC to retrieve your data.
Maintain contact
You will need to be in touch with MacCHESS staff throughout the process,
from advance preparations to beamline operation to data retrieval. Be
sure that e-mail and phone info in the CHESS database are accurate and
up-to-date.

The direct phone number fore the ID7B2 beamline is 607-254-3598, but
this is unlikely to be attended during the pandemic.

If something goes wrong during your data collection time, us the REACH
CHESS system described in the Remote User Guide.
Things you should communicate
As mentioned in the CHESS Remote User Guide, you should list all collaborators and activate
your CLASSE computing account, because only CLASSE IDs properly
registered will be enabled for remote desktop access. Please communicate
clearly which CLASSE accounts will be used.

If you need any training ask for a Zoom session to be set up before your
data collection time.

Let us know how many pucks you have and which you want loaded in the
automounter. We will confirm with a mapping of which pucks are in which
slots.
If you need pucks changed during your time, please let us know in
advance when you expect this to happen. You get bonus points if this
falls during regular work hours.

Switching between the regular 100 micron collimator and the focused
compound refractive lens takes staff intervention, so this should be
scheduled in advance during regular hours if at all possible.

Let us know what you want done with your samples after data collection.
Should they be shipped back to you under liquid nitrogen? Or, especially
if you are using loaner pucks, is it OK to warm the used samples? Let us
know when you finish. When your time is up, you should disconnect your
NX remote desktop session by closing the viewer window, and retrieve
your data using Globus.