Remote data collection at MacCHESS
It is possible to collect data using the MacCHESS beamline from a remote networked connection.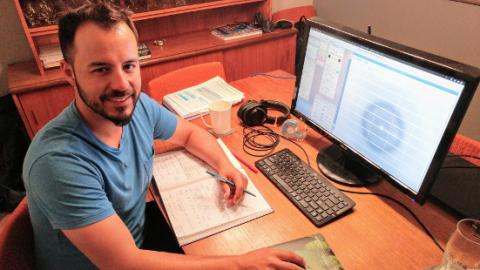 Automounter
Remote data collection will require the use of the BAM-2 automounter. Users should be familiar with automounter use and sample holder requirements. Samples must be shipped to MacCHESS in ALS, UNI or MSC pucks. MacCHESS has loaner kits for users who do not have their own pucks and tools. If you need a loaner kit, be sure to request it sufficiently in advance to allow us to ship the kit, and for you to familiarize yourself with the tools and load your samples.
Be sure to ship your samples to us sufficiently far in advance. Allow for weather and other sources of shipping delays.
If you are collecting data we will also want a phone number and e-mail address for contact during your beamtime.
If you need training in data collection or automounter use, let us know and we will try to set up a remote training session in advance of your beamtime.
VPN access
MacCHESS beamlines are protected by the CHESS firewall. In order to remotely connect to our computers, you will need access to our lab network with VPN. You should contact MacCHESS a week or so in advance to get set up for VPN access.
Remote desktop connection
The actual control connection uses remote desktop software. You will need to install and configure remote client software on your computer.
Do not open a remote desktop connection to a MacCHESS beamline workstation without clear approval from MacCHESS. We will let you know when the previous user is finished and the station is set up for you. If you want to test your remote configuration in advance, schedule this with MacCHESS and we will find a time when the beamline is not being used.
Beamline operation
Operation of the ADX software for data collection is the same as for on site use.
The automounter is controlled from the ADX "Manual Control" panel. Some automounter commands, such as defrosting the gripper, take time. Allow for this.
Remote users will miss out on some cues such as PA announcements, audible feedback and CHESS control panel indicators. Webcam views are available in the Firefox browser home page to assist you in keeping track of the automounter state and visually verifying mounts and dismounts. It will be useful to open a second tab in the browser to keep an eye on the CHESS scoreboard. This will help you maintain awareness of CESR outages.
Some beamline configuration, such as switching between collimator and focusing capillary, must be done by MacCHESS staff.
Streaming video uses a lot of bandwidth and can negatively impact the feasibility of remote collection. To make this work we reduce video bandwidth in two ways:
The MacCHESS Crystal Centering Interface has a special setting for "Client Remote Delay," which can be found under the "Visual Aids" menu. Normally the centering interface runs at 7.5 frames per second. For remote operation, the Client Remote Delay is turned on and set to one frame per 2 - 2.5 seconds. This setting is preserved if the centering software is restarted.
The webcams inside the hutch typically run at five frames per second for on-site automounter users. For remote operation these are slowed to one frame per second. This must be done by MacCHESS staff. Once they are set, they should maintain their frame rate unless there is a power outage.
Streaming video only uses bandwidth if it is actually displayed. If your connection is sluggish and you are trying to figure out why, minimizing the video windows is a good place to start.
While using NX, keyboard and mouse input can come from either the local desktop or your remote NX window. Please do not hijack the mouse while MacCHESS staff are performing alignment or maintenance.
Landline is loaded with all of the usual crystallographic software found on the MacCHESS data processing workstations: CCP4, Phenix, XDS, etc. If you are going to process your data on landline you will probably want to use a separate desktop. On Linux, the icons to switch between desktops are found in the lower right corner of the screen.
Use of the remote desktop service will have to end when your beam time ends, but you may continue to connect via SSH or RSYNC to retrieve your data.
Data retrieval
The remote desktop connection uses the SSH network protocol. Once your VPN link is set up, this means you can use SSH and RSYNC for things like transferring your data. See our guidance on data transfer methods.
Maintain contact
You will need to be in touch with the MacCHESS staff throughout the process, from advance preparations to beamline operation to data retrieval. You should submit a phone number and e-mail address through which the primary user can be reached during data collection.
MX Beamline:
MX beamline server name: landline.chess.cornell.edu (128.84.182.175) Data collection account: specuser. Data directory: /ID7B2
Direct phone: 607-254-3598
It is possible to set up a skype connection to facilitate communication. Please ask if you think this would be helpful. MacCHESS staff may occasionally communicate through signs displayed on the data collection desktop, such as "Pause for maintenance," or "Call the beamline."
Things you should communicate
You should indicate your desire to collect remotely in your proposal.
Once beam time is assigned, contact staff to obtain CLASSE IT credentials and set up a time for testing your OpenVPN connection and remote desktop connection.
Before setup time, MacCHESS staff will want to know which pucks you want loaded in the automounter, and whether you want collimator or focused capillary. Be sure to mention any special needs.
When your assigned time slot approaches, communicate with MacCHESS staff via phone or e-mail. They will tell you when it is OK to connect, whether your pucks are loaded in the automounter, and whether the X-ray hutch is closed. MacCHESS staff will stay at the beamline long enough to ensure that you have gotten the hang of things.
Mention scheduled maintenance such as switching X-ray optics or changing pucks via e-mail or phone. Advance notice is appreciated, and if you can keep these operations to normal working hours, even better. If something stops working, try calling the beamline.
If no one is around, call the CHESS main phone line. The CHESS operator knows which MacCHESS staff are on call.
Let us know what you want done with your samples after data collection. Should they be shipped back to you under liquid nitrogen? Or, especially if you are using loaner pucks, is it OK to trash the used samples? Let us know when you are finished. When your time is up, you should disconnect your NX remote desktop session, but you may continue retrieving your data with RSYNC or SSH.
MacCHESS data and resources are inside the CHESS firewall.
For remote data collection and possibly for other uses, you may need to use remote desktop software to connect to a CHESS workstation.