Goal of the Workshop
The goal of this workshop was to enhance collaboration between the CIE2M partners by introducing and exploring how x-ray absorption spectroscopy—both XANES and EXAFS—can help answer question in materials science research. Importantly, the workshop aimed to cover both the theoretical and practical considerations needed to plan successful XANES and EXAFS experiments. By focusing narrowly on material science applications, the workshop was able to specifically address concerns of the CIE2M collaborators.
Workshop Overview
Due to the travel restrictions imposed by the COVID-19 pandemic, the entire workshop was conducted virtually using Zoom. Over three days, the workshop consisted of both didactic lectures and hands-on tutorials. The first two days were dedicated to x-ray absorption spectroscopy and EXAFS, respectively, while the third focused on experimental design and planning. The third day also had time for one-on-one discussions between participants and facilitators on individual questions of data analysis and experiment design.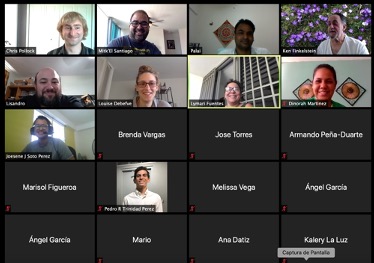 Outcome
On all three days of the workshop, 20 – 25 participants attended using Zoom. During the lectures, the information content of XANES and EXAFS was covered, as well as important considerations for planning these types of experiments; the lectures were also recorded and are available for download. A number of data processing and analysis tools were explored in the hands-on sections, including PyMCA, Artemis, Athena, and BlueprintXAS. These tools were used to extract coordination environment information from XANES spectra and metal-ligand metrics from EXAFS data; detailed tutorials for how to use all of these programs were posted online and are available for download. Finally, discussions with several CIE2M collaborators took place to resolve questions about data analysis and to plan future work at CHESS.
Workshop Facilitators:
Chris Pollock, Cornell High Energy Synchrotron Source, Wilson Laboratory, Cornell University
Louise Debefve, Cornell High Energy Synchrotron Source, Wilson Laboratory, Cornell University
How was the work funded?
The workshop was supported by the Center for High Energy X-ray Sciences (CHEXS) at CHESS funded by NSF under award DMR-1829070.