Materials were as varied as conjugated small molecules [5,10,18], pharmaceutical molecules [16], metal-organic frameworks [19], cellulose nanocrystals [7], and hybrid organic-inorganic perovskites [2,3,8,9,13] (all in GIWAXS mode) as well as monodisperse nanoparticles [1,14,17],  and block copolymers, polymer membranes, and polymer brushes [4,6,11,12,15] in GISAXS mode. In GIWAXS mode length scales probed are 1-3 nm, in the GISAXS modes 2-20 nm for nanoparticles and 20-80 nm for block copolymers. Users came from a variety of fields including chemistry, physics, and materials science as well as biological, chemical , and electrical engineering, and from a number of countries (US, UK, Saudi Arabia, Sweden, Germany, Denmark, China, and Australia).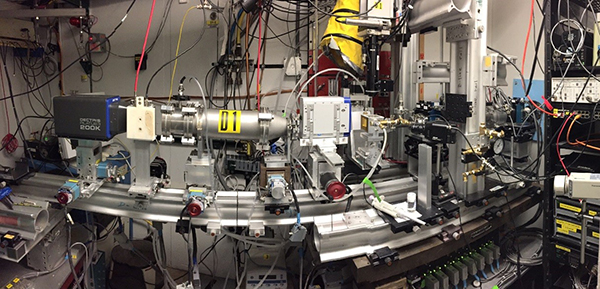 Less than half of the samples were characterized in a static way [1,2,8,9,10,13,14,18]; others were deposited in-situ [3,6,7,12,16,19] or exposed to solvent vapor [4,5,11,12] and/or subjected to heat treatment [4] at the beamline to study their self-assembly pathways and kinetics. In-situ experiments included spin coating [9], blade coating [2,3,6,9,16,19] and controlled drying in a chamber with a preset vapor concentration [11,12]. Some of the blade coating studies made use of an x-ray microbeam [16,19], in order to achieve the required spatial and temporal resolution (15 micron/10 msec). Note that data collected during the last half year of D-line operation are not yet written up so far, so there's more to come!
Two articles, on block copolymer membranes [6] and on small conjugated molecules [5], were highlighted as covers in the journals "Small" and "Advanced Materials Interfaces", respectively. This impressive achievement of the D-line user community demonstrates the high user demand for an in-situ materials processing beamline (IMP) for the CHESS Upgrade.
D-line has had a long, varied history spanning almost 30 years. The first beamline scientist was Mike Bedzyk (EXAFS, standing waves), succeeded by Ernie Fontes (standing waves, lipid scattering, fluorescent imaging). Arthur Woll developed confocal fluorescence imaging during his year at D1. In this phase a number of energy-dispersive detectors were used, starting from EG&G germanium detectors to faster X-Flash and Vortex detectors. In addition prototypes of ultrafast x-ray imaging detectors of the Gruner group in the microsecond regime were tested and applied to image fuel sprays for the auto industry. Under Detlef Smilgies the beamline mission shifted to grazing incidence small- and wide-angle scattering for the study of functional organic thin films and a constantly increasing number of in-situ experiments. The workhorse detector in this phase was a MedOptics CCD camera with a read-out time of about 3 sec, which allowed time-resolved measurements for block copolymers and nanoparticles. When the first Pilatus1 100k detectors arrived at CHESS, this was quickly exploited by D-line user groups resulting in coating movies of conjugated molecules with up to 100 frames/sec. Later the detector was upgraded to a Pilatus3 200k, which became the standard D1 detector, at times complemented with a Pilatus1 100k for simultaneous SAXS/WAXS measurements (see Figure 1). The Pilatus detectors expanded D-line capabilities significantly, not only because of their fast read-out time, but also by their high dynamic range and negligible intrinsic noise. Thus D-line has been a test bed for the upcoming high-flux high-energy undulator beamline IMP that has been proposed to the NSF where we plan to push capabilities further.
References:
[1] Assembly Dynamics of Plasmonic DNA-capped Gold Nanoparticle Monolayers
TL Derrien, M Zhang, P Dorion, DM Smilgies, D Luo in Langmuir (2018)

[2] Phase Transition Control for High-Performance Blade-Coated Perovskite Solar Cells
J Li, R Munir, Y Fan, T Niu, Y Liu, Y Zhong, Z Yang, Y Tian, B Liu, J Sun, ...in Joule (2018)

[3] Phase Transition Control for High Performance Ruddlesden–Popper Perovskite Solar Cells
X Zhang, R Munir, Z Xu, Y Liu, H Tsai, W Nie, J Li, T Niu, DM Smilgies, ...in Advanced Materials 30, 1707166 (2018)

[4] In Situ Tracking of Composition and Morphology of a Diblock Copolymer Film with GISAXS during Exchange of Solvent Vapors at Elevated Temperatures
AV Berezkin, F Jung, D Posselt, DM Smilgies, CM Papadakis in Advanced Functional Materials 28, 1706226 (2018)
[5] Bistetracene Thin Film Polymorphic Control to Unravel the Effect of Molecular Packing on Charge Transport
EK Burnett, J Ly, MR Niazi, L Zhang, SR McCuskey, A Amassian, ... in Advanced Materials Interfaces 5, 1701607 and 1870040 (2018)
[6] Functionalized Nanochannels from Self‐Assembled and Photomodified Poly (Styrene‐b‐Butadiene‐b‐Styrene)
B Sutisna, G Polymeropoulos, V Musteata, R Sougrat, DM Smilgies, ... in Small 14, 1701885 and 1870083 (2018)
[7] In Situ and Real-Time Studies, via Synchrotron X-ray Scattering, of the Orientational Order of Cellulose Nanocrystals during Solution Shearing
L Sanchez-Botero, AV Dimov, R Li, DM Smilgies, JP Hinestroza in Langmuir 34, 5263-5272 (2018)

[8] Origin of vertical orientation in two-dimensional metal halide perovskites and its effect on photovoltaic performance
AZ Chen, M Shiu, JH Ma, MR Alpert, D Zhang, BJ Foley, DM Smilgies, ... in Nature Communications 9, 1336 (2018)

[9] Blade-Coated Hybrid Perovskite Solar Cells with Efficiency > 17%: An In Situ Investigation
Y Zhong, R Munir, J Li, MC Tang, MR Niazi, DM Smilgies, K Zhao, ... in ACS Energy Letters 3, 1078-1085 (2018)

[10] Breaking the Bimolecular Crystal: The Effect of Side-Chain Length on Oligothiophene/Fullerene Intercalation
EK Burnett, BP Cherniawski, SJ Rosa, DM Smilgies, S Parkin, AL Briseno in Chemistry of Materials 30, 2550-2556 (2018)

[11] Exploiting Molecular Weight Distribution Shape to Tune Domain Spacing in Block Copolymer Thin Films
DT Gentekos, J Jia, ES Tirado, KP Barteau, DM Smilgies, RA DiStasio Jr, ...in Journal of the American Chemical Society 140, 4639-4648 (2018)

[12] Coordinated Responsive Arrays of Surface-Linked Polymer Islands—CORALs
O Davydovich, E Chu, Z Friar, DM Smilgies, P Moore, A Sidorenko in ACS Applied Materials & Interfaces 10, 7459-7468 (2018)

[13] Morphology and Optoelectronic Variations Underlying the Nature of the Electron Transport Layer in Perovskite Solar Cells
WJ Nimens, J Ogle, A Caruso, M Jonely, C Simon, D Smilgies, R Noriega, ...in ACS Applied Energy Materials 1, 602-615 (2018)

[14] Colossal Anisotropy of the Dynamic Magnetic Susceptibility in Low-Dimensional Nanocube Assemblies
E Wetterskog, C Jonasson, DM Smilgies, V Schaller, C Johansson, ...in ACS Nano 12, 1403–1412 (2018)

[15] Locally Favored Two-Dimensional Structures of Block Copolymer Melts on Nonneutral Surfaces
M Sen, N Jiang, MK Endoh, T Koga, A Ribbe, A Rahman, D Kawaguchi, ...in Macromolecules 51, 520–528 (2018)

[16] Controlling Polymorphism in Pharmaceutical Compounds Using Solution Shearing
SM Guthrie, DM Smilgies, G Giri in Crystal Growth & Design 18, 602–606 (2018)

[17] Two-dimensional gold trisoctahedron nanoparticle superlattice sheets: self-assembly, characterization and immunosensing applications
D Dong, LW Yap, DM Smilgies, KJ Si, Q Shi, W Cheng in Nanoscale 10, 5065-5071 (2018)

[18] On the Effect of Confinement on the Structure and Properties of Small‐Molecular Organic Semiconductors
J Martín, M Dyson, OG Reid, R Li, A Nogales, DM Smilgies, C Silva, ...in Advanced Electronic Materials 4 (2018)

[19] Oriented UiO-66 thin films through solution shearing
A Ghorbanpour, LD Huelsenbeck, DM Smilgies, G Giri in Crystal Enginneering Comm 20, 294-300 (2018)