For example, while inorganic forms of arsenic (e.g, As3+ and As5+) are known to be highly toxic agents, arsenobetaine (AsB) and arsenocholine (AsC) are relatively non-toxic, organoarsenic species that are considered benign. Both AsB and AsC are absorbed into the blood compartment and excreted unchanged in urine.
Funded by a National Institutes of Health (NIH) grant (R01-ES020371), researchers at the New York State Department of Health's Wadsworth Center recently sought to determine the sources of exposure to toxic metals/metalloids among the ethnic Chinese population in Upstate New York. Among this group, dried baby shrimp is a very popular seafood snack and is consumed whole. Using a portable x-ray fluorescence (XRF) instrument to analyze these shrimp during field-based home visits with the participants, arsenic was detected at ppm levels in the shrimp samples. However, the exact location and the specific chemical species of arsenic present in the shrimp could not be identified using the field-based XRF analyzer.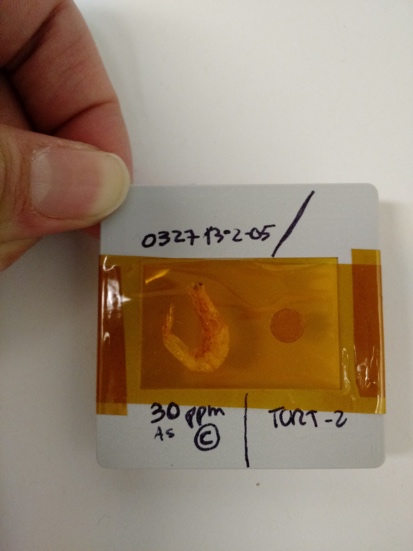 Diving deeper, the group of researchers turned to the Cornell High Energy Synchrotron Source, CHESS. At CHESS, they were able to scan the whole shrimp using the same analytical principle as in the field study, XRF, but with higher intensity x-rays and at better spatial resolution than is possible with their portable instrument.
X-ray fluorescence is able to reveal many elements within a sample such as shrimp, while also revealing the location and estimating the local concentration of As absorbed by the organism. The µXRF performed at CHESS provides a strikingly beautiful image, while also giving researchers a complete picture of arsenic that lie deep within the tissues of the shrimp. The µXRF technique also provides images for other elements such as calcium and bromine.
"We weren't really sure what we were going to see," Says Dr. Patrick Parsons, Director of Environmental Health Sciences from the Wadsworth Center, and a Professor of Environmental Chemistry at the University at Albany, who traveled to CHESS for this research. "It took about 9.5 hours to collect the data overnight, and what we were looking to do was replicate what we saw in our earlier study. When we saw the first images, we said 'wow'".
Typically, in order to analyze these types of samples for arsenic with other methods, the sample is first digested in hot concentrated nitric acid, rendering the spatial distribution of heavy metals impossible to observe.
"What we are discovering over and over again, is that although XRF is well known in the synchrotron community, it is often completely surprising to other scientists exactly how powerful this technology has become," explains Arthur Woll, CHESS staff scientist and co-author of the study.
Similar to the initial findings, they confirmed the presence of arsenic as well as determined exactly where the metalloid was concentrated; residing mostly in the abdomen of the shrimp. Since these particular shrimp are typically eaten whole, the distribution of heavy metals is an important factor in the health impact to the consumer.
The next step in the study was to determine if the specific chemical species of arsenic was benign or toxic, arguably the most important factor, and unable to be determined through XRF.
The researchers employed a technique called XANES (X-ray Absorption Near Edge Spectroscopy, pronounced "zanes") at CHESS to provide further characterization of the type of arsenic present. This method is able to shed light on the chemical bonding, or elemental speciation, of the arsenic. After analyzing the shrimp with this method it was determined that the arsenic was in fact bonded to organic molecules, most likely AsB and/or AsC which is non-toxic and excreted in urine unchanged by the human body.  In fact back at Wadsworth, the research group used liquid chromatography coupled to inductively coupled plasma-mass spectrometry to confirm that more than 95% of the arsenic present was AsB, with trace amounts of inorganic arsenic and methylated As species present. Thus, the results of the XANES speciation study were confirmed against mass spectrometry, which is a different analytical technique.
This approach of performing research in the field, then validating and expanding the study using x-rays at CHESS opens up a world of possibilities for future studies. Woll explains that recent advances to methods, such as XRF mapping employed here, significantly broaden the possibilities of detecting and understanding the distribution of toxins in whole food, in addition to expanding what environmental scientists and biologists can do. He notes that this same method works with beneficial nutrients like iron and zinc as well, allowing researchers to study the availability of nutrients within our food.
"It enriches what types of questions people can ask. Where is this food coming from and how do we digest it? There are all types of things that you would think we know but don't, in part because the tools to answer such questions haven't existed until now," says Woll.