What is the discovery?
Hybrid pixel array detectors (PADs) have proven to be powerful, versatile area detectors for x-ray science. The hybrid nature of the technology, in which a planar semiconductor sensor is bump-bonded pixel-by-pixel to a custom readout ASIC fabricated in one of a variety of commercial CMOS processes, allows for customization of detector characteristics to better suit the needs of specific classes of experiments. A new paper by graduate student Divya Gadkari and collaborators from Cornell and CHESS describes a suite of characterization measurements on a new prototype 128 x 128 pixel PAD, the MM-PAD-2.1, tailored for high-speed, high-flux diffraction measurements at x-ray energies up to 100 keV.
Why is it important?
Area detectors are a critical tool for x-ray science, particularly for scattering and imaging experiments. The MM-PAD-2.1 has a dynamic range spanning 7 orders of magnitude, can frame continuously at >1 kHz, and can accurately measure flux an order of magnitude higher than commercially-available photon-counting PADs can. These features would enable significant advances in time-resolved studies of dynamic phenomena. The CdTe sensor used here is over 50% efficient for energies up to 100 keV, making it ideal for studies involving thick, high-Z materials, such as metals and rocks. The characterization measurements performed by Gadkari and collaborators verified the single-photon resolution capability of the MM-PAD-2.1 and probed its performance under high-flux conditions, providing important guidance for further detector development.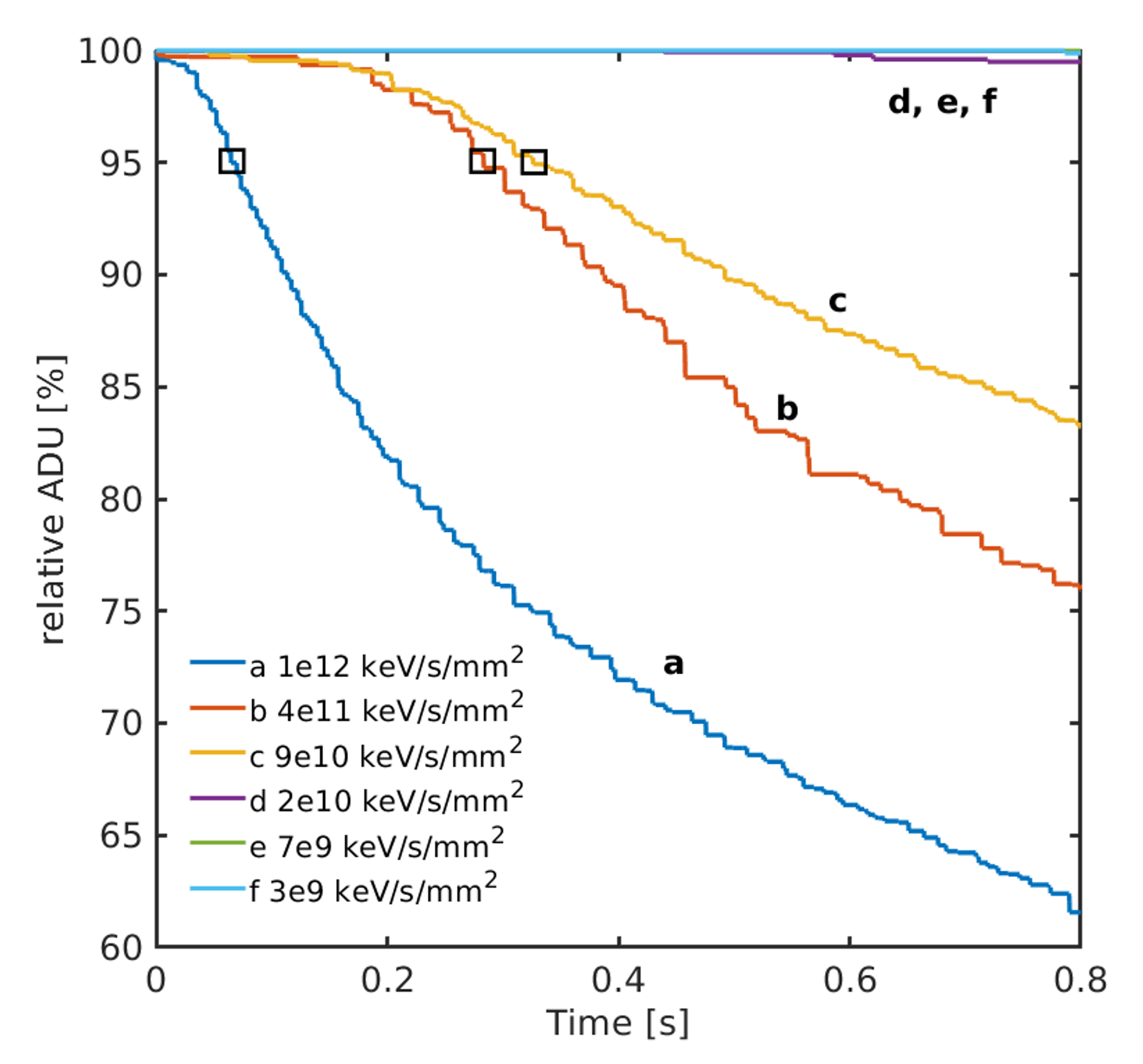 Why did this research need CHEXS?
The high-flux detector characterization measurements reported here relied on the high-flux, high-energy monochromatic x-rays available at the FAST beamline at CHEXS. While baseline detector characterization such as flood field and edge spread characterization of spatial response, gain calibration, and noise measurement can be performed using small home-laboratory x-ray sources, the high-flux performance of a detector can only be evaluated at a synchrotron source. Evaluating detector performance under these conditions is critical to understanding whether the design is sufficient to meet the needs of the most challenging synchrotron experiments.
How was the work funded?
Support for detector development at Cornell has come from U.S. Dept of Energy grants DEFG02-10ER46693, DE-SC0016035, DE-SC0004079, and DE-SC0017631. Research conducted at the Center for High Energy X-ray Sciences (CHEXS) is supported by the National Science Foundation under award DMR-1829070. The authors acknowledge useful contributions from collaborators at the Advanced Photon Source (ANL), especially Nino Miceli and John Weizeorick.
Reference:
Characterization of 128 x 128 MM-PAD-2.1 ASIC: a fast framing hard x-ray detector with high dynamic range.
Divya Gadkari, Katherine S. Shanks, Hannah Hu, Hugh T. Philipp, Mark W. Tate, Julia Thom-Levy, and Sol M. Gruner.
Journal of Instrumentation 17 P03003 (2022); https://doi.org/10.1088/1748-0221/17/03/P0300