What is the discovery?
CHEXS users have investigated high temperature grain recrystallization in light-weight magnesium (Mg) alloys, gaining new microscopic insight into a process known to improve material performance. Mg alloys are needed for next-generation automotive and aerospace transportation. However, rolled Mg alloys suffer from "poor formability". A preferred orientation or "texture" for grains occurs during sheet rolling which diminishes performance. The texture can be reduced (and the material properties improved) by annealing the alloy at high temperature after rolling, but the underlying mechanisms by which this occurs have remained poorly understood. In a new paper appearing in the journal Acta Materialia, a team lead by Prof. Ashley Bucsek from the University of Michigan presents new insights into the microstructural evolution which occurs during annealing, using in-situ X-ray diffraction (below). They identify and monitor the nucleation and growth of more than 1200 recrystallized grains, which emerge over a span of 10 minutes at an annealing temperature of 230o C. These comprehensive datasets allow simultaneous study of widely variable behavior of individual grains, as well as a statistical understanding of the bulk average response. Empirical relationships are uncovered between grain size, history, rate of growth, rate of nucleation, and texture, which can now be fruitfully compared with simulations.

Why is it important?
Lighter vehicles reduce greenhouse gas emissions by improving fuel efficiency. The transportation sector currently accounts for one-quarter of energy related greenhouse gas emissions worldwide.  Mg alloys have substantial potential for lightweighting vehicles. Alloying with earth-abundant elements Ca and Zn instead of rare-earths is both economical and ecologically sound. Understanding how grain size and texture evolves during annealing in these Mg-Zn-Ca alloys will help teach us how to engineer more ideal microstructures for next-generation Mg alloys.
Why did this research need CHEXS?
The FAST (Forming and Shaping Technology) beamline at CHEXS is dedicated to understanding engineering materials processing and performance. A key capability of FAST is the High Energy Diffraction Microscopy (HEDM) technique, which was used for this work. These measurements require the high flux of high energy x-rays which are available at FAST, as well as the suite of in-house detector and computational tools provided to users. Far-field-HEDM provides spatially resolved measurements of the grain-averaged crystallographic orientation, elastic strain tensor, centroid position, and relative volume of each individual grain for many hundreds to thousands of grains simultaneously. This research also made use of FAST's halogen bulb / elliptical mirror furnace, which is specially designed for in-situ X-ray diffraction experiments at high temperature.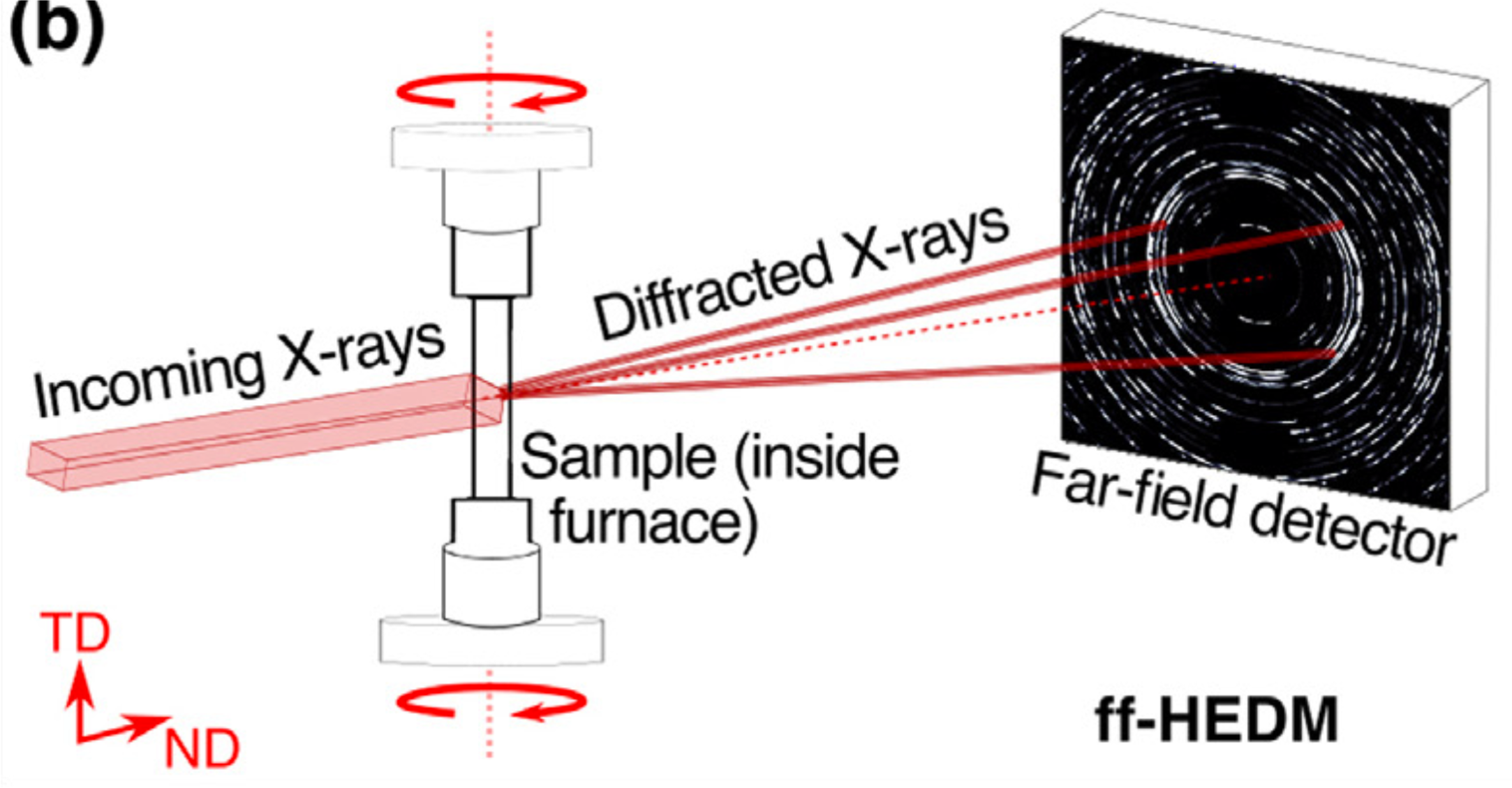 How was the work funded?
Center for High Energy X-ray Sciences (CHEXS), NSF (DMR-1829070)
Center for Predictive Integrated Structural Materials Science (PRISMS), DoE (DE-SC0008637)
Reference:
The dynamics of recrystallized grains during static recrystallization in a hot-compressed Mg-3.2Zn-0.1Ca wt.% alloy using in-situ far field high-energy diffraction microscopy
Reza Roumina, Sangwon Lee, Tracy D Berman, Katherine S Shanks, John E Allison, and Ashley Bucsek
Acta Materialia 234 (2022) 118039; https://doi.org/10.1016/j.actamat.2022.118039