What is the discovery?
Conventional alloys are made primarily of one metal element, with a small substitution of other atoms to tune the properties (for example, 7.5% Cu and 92.5% Ag produces sterling silver). Recently, new types of high entropy alloys (HEAs) have been discovered, which are made by mixing many different metallic elements in nearly-equal proportions. HEAs can exhibit remarkably different properties from conventional alloys. In a new paper, a team lead by Jerard Gordon from the University of Michigan reports a high-energy x-ray study of the HEA made from mixing equal amounts of Co, Cr, Fe, Mn, and Ni. The team was able to use far-field high-energy diffraction microscopy (ff-HEDM) to understand the microscopic response of thousands of individual crystal grains in their sample when it is deformed under load. They were also able to compare the results with detailed crystal-plasticity models.
Why is it important?
The deformation behavior of HEAs has been extensively studied at the macroscale, but these are some of the first microscopic measurements of individual grain deformation in these alloys. A lack of detailed microscopic information has hampered accurate prediction of damage and failure processes in these emerging materials. Due to atomic size mismatch, essentially every atom in a HEA can become an obstacle to dislocation motion. Understanding how these unique microscopic mechanisms propagate to larger length scales is critical for understanding HEA performance in real-world applications.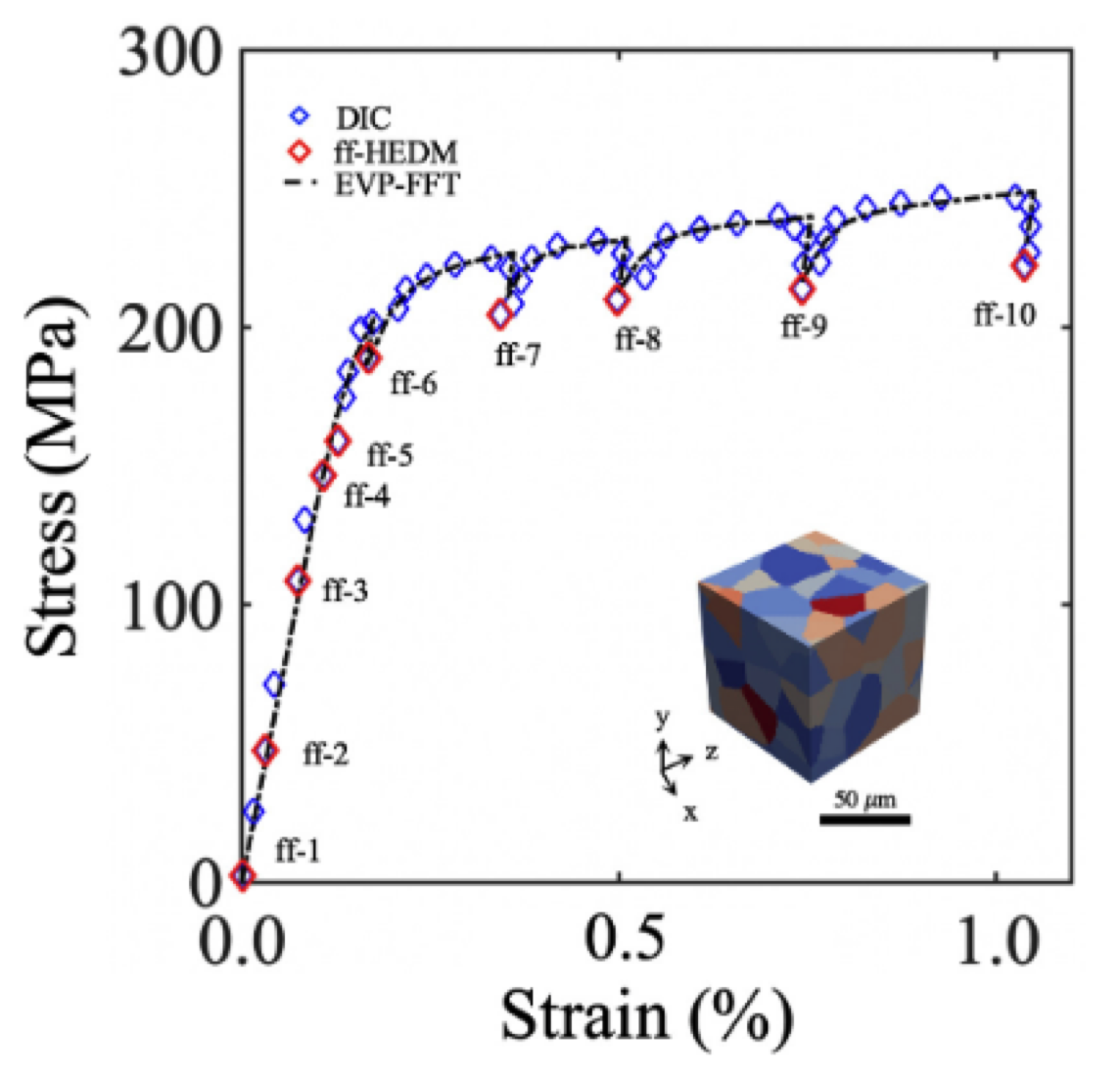 Why did this research need CHEXS?
This research exploited the unique strengths of the FAST beamline at CHEXS, which has a mission to understand and improve materials processing and performance. ff-HEDM studies of metals under applied loads are a core capability of the beamline. These measurements require the high flux of high energy x-rays which are available at FAST, as well as the suite of in-house detector and computational tools provided to users. The tensile loading and the rotation of the sample used the custom-built RAMS2 Load Frame, which enables 360° rotation of the specimen without interfering with incoming X-rays during mechanical loading. 
How was the work funded?
This work is based on research conducted at the Center for High Energy X-ray Sciences (CHEXS) which is supported by the National Science Foundation under award DMR-1829070. ADR is grateful for support from DOE / Basic Energy Sciences under grant number DESC0019096.
Reference:
Evaluating the grain-scale deformation behavior of a single-phase FCC high entropy alloy using synchrotron high energy diffraction microscopy
JV Gordon, RE Lim, MJ Wilkin, DC Pagan, RA Lebensohn and AD Rollett
Acta Materialia 215 (2021) 117120, https://doi.org/10.1016/j.actamat.2021.117120