Mechatronics is a multidisciplinary field of engineering, incorporating controlled electronics, mechanical, and computer systems; all to adapt to the ever-evolving and intricate systems of everything in industry; from food processing and car-manufacturing, to sustainability and space exploration. CHESS requires a multidisciplinary team of engineers, technicians, programmers and scientists, and is a perfect case-study for the diverse coursework of the program offered at SUNY Delhi.
A critical part of the internship program is that students complete at least 100 hours in four widely varying areas of work, ranging from mechanical and electronic design and assembly to inventory and purchasing. Fulfilling these requirements at CHESS naturally allows interns to interact with, learn from, and assist CHESS's professional technical staff.
John Conrad, Research Support Specialist at CHESS, who has worked in woodworking, metal fabricating, wineries, lightbulb manufacturing and has now been at CHESS for eight years wished he could have had access to such a program when he was younger. "This course is something that was not available when I was in school," said Conrad. They're learning basically what I've taken my whole life to learn. It's a combination of engineering and actually applying it."
A diversity of skills and projects
The R&D internship experience provided by CHESS is rare, and can help propel students with an advantage as they apply for jobs after graduation. In its third year, the internship program with SUNY Delhi has become a highly sought-after opportunity for the incoming senior class.
As the internship program continues at CHESS, the responsibilities and tasks assigned to the interns evolve. Some previous interns have focused on a few major projects, but this year, Ryan and Alex spread their talents out among a number of smaller and much-needed jobs throughout the lab. From 3D modeling to rack frames and adapter plates to equipment tables, this year's interns have left their mark in every corner of CHESS.
Many of the projects involved making the daily operations of CHESS safer both for the people using it and for the equipment. One project Ford worked on over the summer months was a 3D printed ELCO lock. As with many of the problems the SUNY Delhi interns are tasked with, Ford was presented with a problem to solve: sometimes people will unplug motor drive control and power (MDCP) plugs without turning the motor off first. This can result in damage to the motors, causing significant setbacks. In order to solve this problem, Ford designed locks for the plugs, forcing operators to think and read the message on the locks ("disable motor channel") before unplugging the MDCPs. After several rounds of prototypes printed in-house and going back-and-forth with Research Support Specialists testing and revamping the prototypes, the design was finalized and an order of 50 was ordered in a stronger material.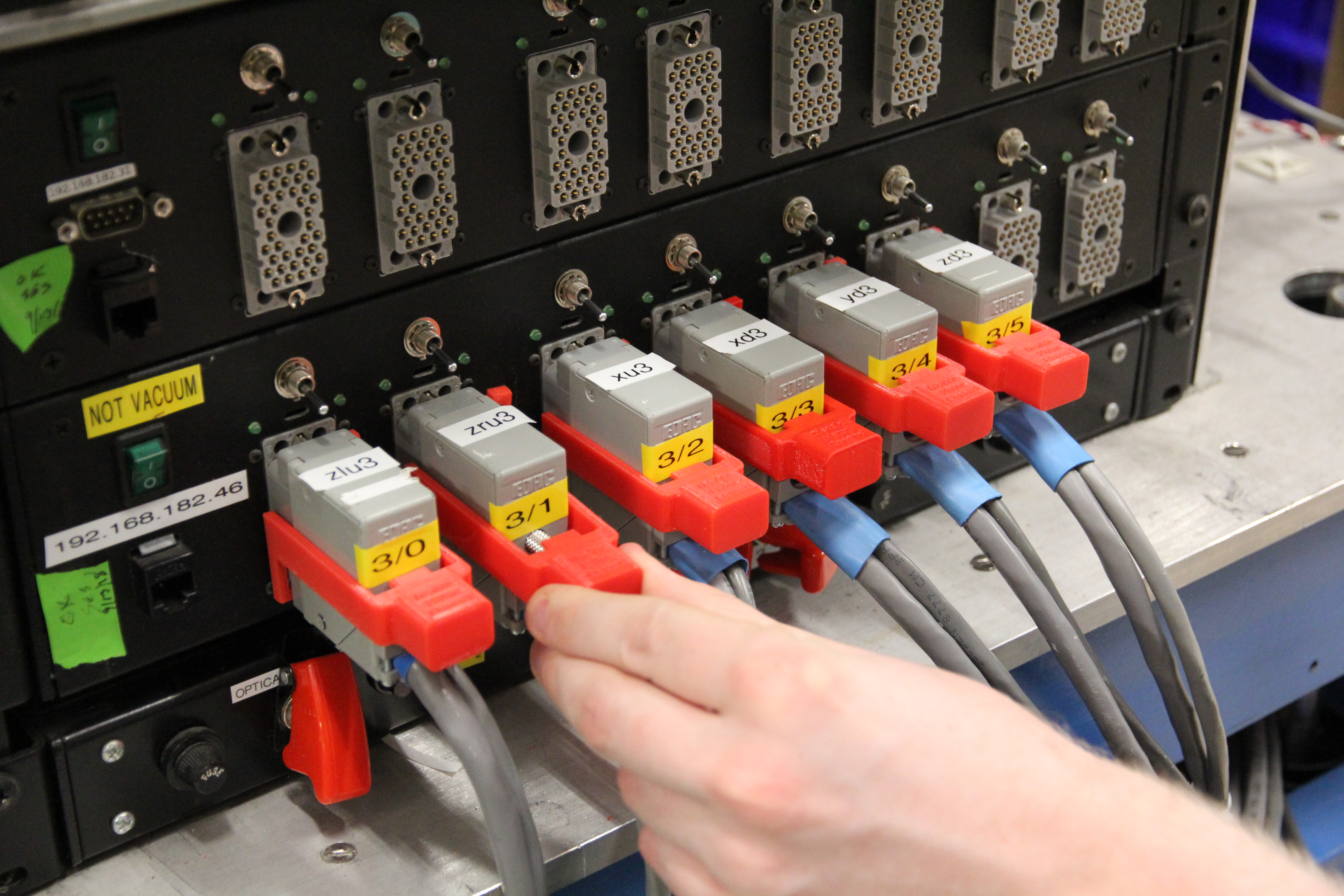 Another major project of Ford's during the internship was creating a rack frame to hold equipment at CHESS's Functional Materials Beamline (FMB). Scientist at FMB were adding another computer to their suite of equipment in the hutch, which necessitated rearranging and consolidating a slew of connections, wires, and pieces of equipment. Ford was able to both design and build a new rack that not only reorganized the equipment in a sleeker way, but opened up space for more!
Currently, Ford is working on a complete 3D model of all of the equipment in the tunnel containing CESR and the synchrotron ring - a huge undertaking. This model will be extremely helpful for anyone looking to make any modifications or repairs in the tunnel in the future.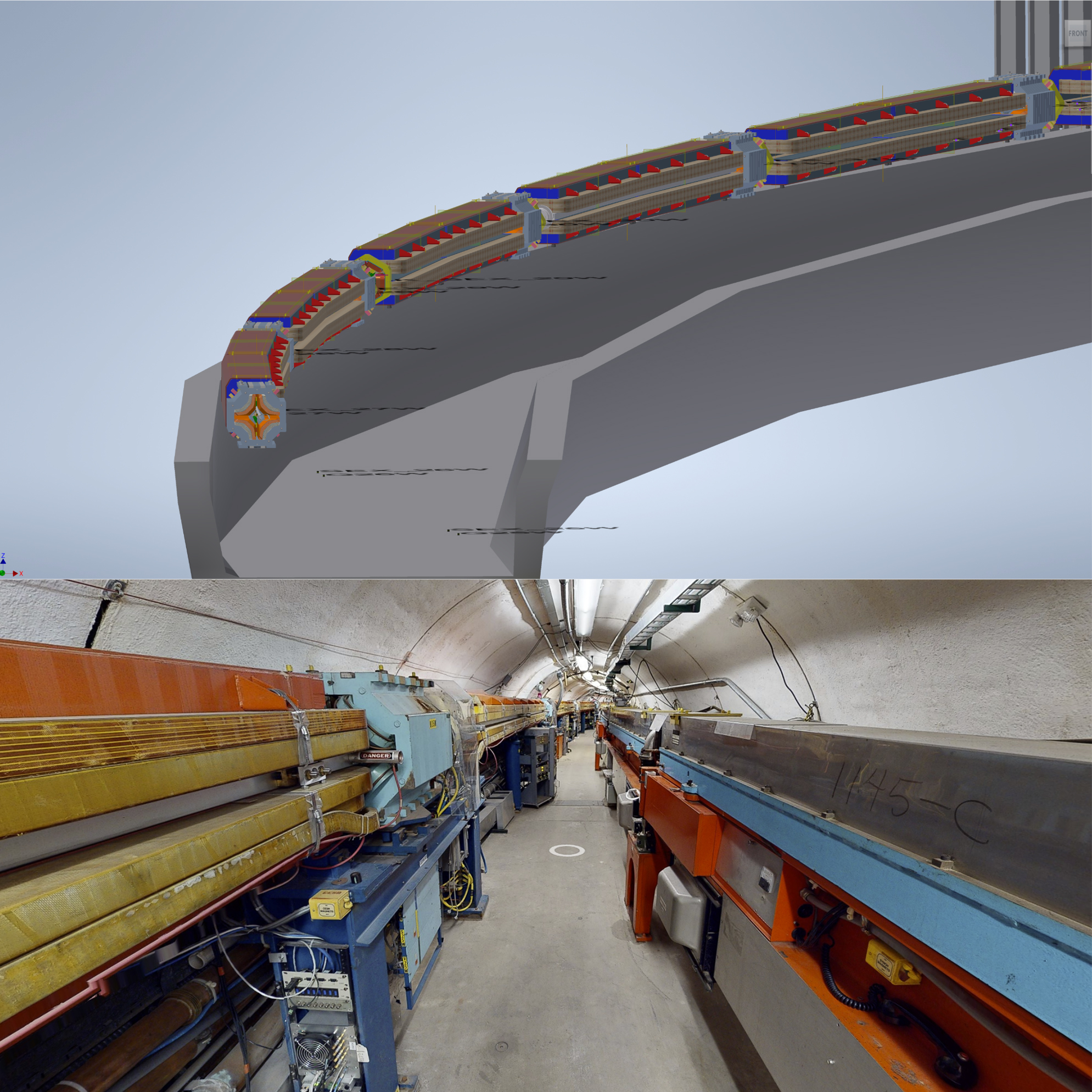 All the while, Adams was working on his own collection of projects. In a poignant example of the breadth of knowledge the DELHI mechatronics program instills, Adams discovered a mill that was resulting in strange dimensions while machining parts for a project he was working on. Adams was able to retram the mill, squaring up the parts and improving the parts for his own project as well as those of others in the future, certainly saving some headaches.
Like his colleague Ford, and other SUNY Delhi interns before him, Adams was also able to step in on the fly to help with the needs of incoming researchers. A research group was planning to run an experiment that involved getting an injector very close to the detector at FMB. There was no existing way to physically do this, so Ryan stepped up and built a table that could slide its feet under the FMB equipment and snug its surface within inches of the detector.
These projects highlight the strengths and versatility of the mechatronics students from SUNY Delhi, lending not only a vast array of engineering, mechanical, and modeling skills, but also a problem-solving and people-oriented approach.
An invaluable resource
Though CHESS's partnership with the SUNY Delhi mechatronics program is only in its third year, it has become an invaluable resource for the lab. The students gain multitudes from the internship, but CHESS is better off as well.
"Without [the interns], there are things that just wouldn't get done" said Arthur Woll, MSN-C Director. "This internship brings us opportunity in terms of doing things that we otherwise just wouldn't have time for. A lot of them are the kinds of things that once they are done, we don't know how we got along without them before."
The relationship is beneficial for both CHESS and the Delhi interns. "We get the extra manpower and they get to apply some of the things in real life that they've tried to learn" explained Conrad. "I think they've picked up new skills as well as they've been here. Coming to a particle accelerator...not everyone has that chance to come to a place like this."
The interns would agree that they're getting a lot out of their time at CHESS. "Keep asking questions," said Adams. "You can never ask enough questions. This building is full of too many brilliant minds to ever find all the answers you are seeking because you will always have more questions."
The internship fulfilled more than just a credit requirement for Adams. "There are so many interesting people," he continued. "Everyone has a story, everyone came from somewhere else or had something else they were doing before they ended up here, and I really enjoy just getting to talk to people and getting to know people and seeing what was that next story, that next individual that I got to meet. And also the experiments are fascinating!"
Plans for the future
Like past Delhi interns at CHESS, Adams and Ford are using their time here as a springboard. Ford, who has one semester left in the program, will be continuing to work at CHESS as he finishes his coursework. During that time, his goal is to complete the 3D model of the tunnel equipment.
Ford, whose internship concludes his time at SUNY Delhi, has applied to several open positions, including some at CHESS and elsewhere at Cornell. They both hope to continue on with careers similar to what they have been doing during their time at CHESS.
Funding for the internship is provided by MSN-C, the Materials Solutions Network at CHESS.