What is the discovery?
Cold spraying is an additive manufacturing process which relies on high-velocity impact bonding to add material. In the cold spray process, materials remain well below melting temperatures, which precludes chemical reactions and phase transformations. This makes cold spraying an attractive option for additive manufacture of composites – multiple phases can be co-deposited at the same time. In a new paper, a team lead by Mostafa Hassani from Cornell University reports a high-energy x-ray study of a metal matrix composite material made from cold-sprayed Ni and CrC. The team used high-energy X-ray diffraction during in situ loading conditions to understand load sharing between the two phases. Specifically, the team discovered a surprising lack of load transfer between Ni and the hardening CrC phase prior to failure, suggesting a high concentration of manufacturing defects and that the load-bearing properties of the material can be improved via post-spray treatments.
Why is it important?
New advanced manufacturing processes promise better, more economical components with properties that can not be achieved with traditional methods. However, detailed quantification of the performance and failure characteristics of the materials generated via these new methods are essential before they can be put into widespread use. Here, the work of He et al clearly demonstrated that a single-step cold-spraying process without post-processing leads to inferior Ni-CRC material hardness and premature failure.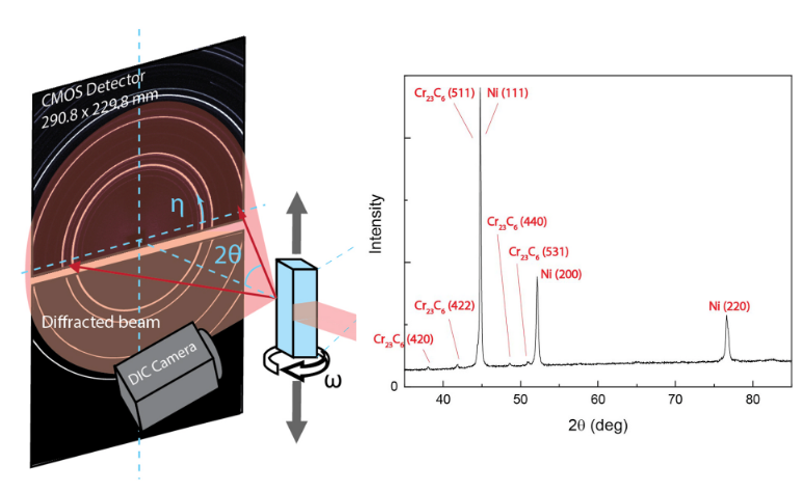 Why did this research need CHEXS?
This research exploited the unique strengths of the FAST beamline at CHEXS, which has a mission to understand and improve materials processing and performance. HEDM studies of metals under applied loads are a core capability of the beamline. These measurements require the high flux of high energy x-rays which are available at FAST, as well as the suite of in-house detector and computational tools provided to users. The tensile loading and the rotation of the sample used the custom-built RAMS2 Load Frame, which enables 360° rotation of the specimen without interfering with incoming X-rays during mechanical loading. 
How was the work funded?
This  research  was  accomplished  through  a  cooperative  research agreement  with  the  US  Army  Research  Laboratory,  Contract: W911NF1920329,  "Development  of  Additive  Manufacturing  and Advanced Materials Processing for the DOD". This work made use of the Cornell Center for Materials Research Shared Facilities which are supported through the NSF MRSEC program (DMR-1719875). This work is based on research conducted at the Center for High Energy X-ray Sciences (CHEXS) which is supported by the National Science Foundation under award DMR-1829070. 
Reference:
Synchrotron X-ray diffraction studies of the phase-specific deformation in additively manufactured Ni–CrC composites
Lewei He, Darren C Pagan, Aaron Nardi, and Mostafa Hassani
Composites Part B: Engineering, 222, 109086 (2021); https://doi.org/10.1016/j.compositesb.2021.109086