What did the scientists discover?
Nondestructive residual strain measurements of thick, DOD-relevant armor steel with typical forming and welding procedures were possible using MSN-C capabilities.  
For the parts examined, the maximum residual strains were roughly equivalent for both bent plates, regardless of total bend angle, and slightly lower for a standard welded boss.  Combined bending + welding appeared to show some reduction in residual stress approaching the weld.  This might occur from the stress relief due to heat input during welding (post-forming).
What are the broader impacts of this work?
As steel hardness increases, ballistic protection increases, but the material also becomes more susceptible to process- and environment-induced cracking. Reducing residual stresses from forming and welding will increase part longevity and decrease costs to the US Marine Corps.  
The tests performed by MSN-C have verified the capability of MSN-C to characterize DOD-relevant parts with typical thicknesses, bend, and welded features.  The results provide a baseline for further research by the DOD and industry partners to improve forming and welding processes.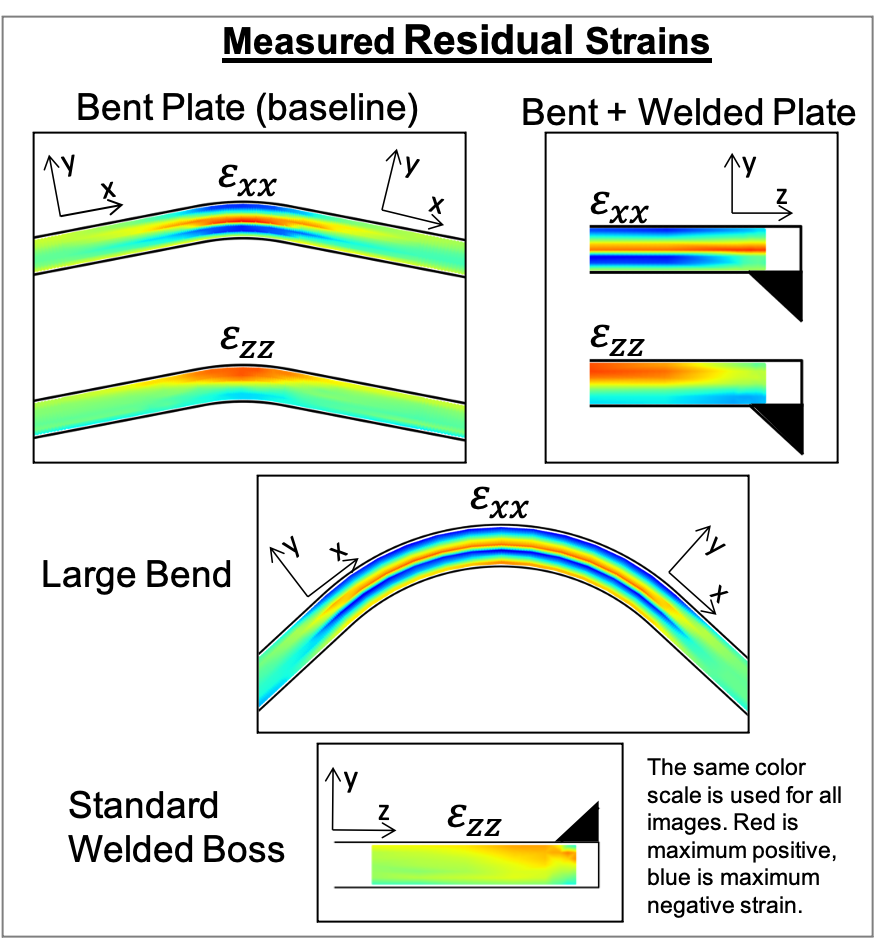 Why is this important?
Residual stress is a primary driver of cracking in armor steels. High performance DoD armored vehicles have the armor fundamentally integrated to the structure, not just present as an add-on. Therefore, cracked parts are very costly to remove, repair or replace.  This leads to unnecessary additional sustainment costs across the DoD. Quantifying residual strains for different manufacturing processes and reducing those strains is one essential approach to reduce cracking.
Why did this research need MSN-C? 
The X-ray experiments needed for this study were not able to be conducted at any U.S. Navy or Department of Defense facilities. High-energy x-rays (up to 200 keV) produced by a synchrotron were required for their high penetrating power through structural metals.
How was this work funded?
The X-ray analysis work is based upon research conducted at the Materials Solutions Network at CHESS (MSN-C) which is supported by the Air Force Research Laboratory (AFRL) under award FA8650-19-2-5220. Armor samples and evaluation were provided by the US Naval Research Laboratory, supported by the US Marine Corps, PEO Land Systems (M9545020WRR0861).