SUNY Delhi offers the nation's first mechatronics major, a multidisciplinary field of engineering, incorporating controlled electronics, mechanical and computer systems; all to adapt to the ever-evolving and intricate systems of everything in industry; from food processing and car-manufacturing to sustainability and space exploration.
As part of the mechatronics program at SUNY Delhi, students are required to complete an internship in industry; CHESS has proudly hosted 9 interns over the past 4 years, with many moving on to full-time careers within CHESS.
"For both our Mechatronics Program and the SME club, we believe it's important for our students to get to see real manufacturing practices and environments firsthand," said Erich Wegner, SUNY Delhi Applied Technologies instructor and the club advisor.  "As many of them prepare to enter their junior and senior years, we do our best to bring them to different companies to expose them to what they may experience during their internships and after graduation."
The internship program with SUNY Delhi is mutually beneficial to both CHESS and the Delhi students. "The partnership between SUNY Delhi and CHESS is one of those opportunities where everyone wins," explains Jim Shanks, a CLASSE Research Associate who helped lead the recent tour. "The students get hands-on experience in an environment they may not have previously considered, and the projects provided by CHESS staff demonstrate the value of a mechatronics background at a world-class research facility."
The recent tour provided SUNY Delhi students with the opportunity to get an in-depth peak at what happens at Wilson Lab, from the inside of the CESR tunnel, to the detector table built by the first cohort of interns, which is still in use on the CHESS floor today.
After the tour, the students had the opportunity to meet with four former SUNY Delhi CHESS interns who are now full-time staff at CHESS. Students asked question ranging from what types of projects they worked on as interns to what the housing is like in the Ithaca area.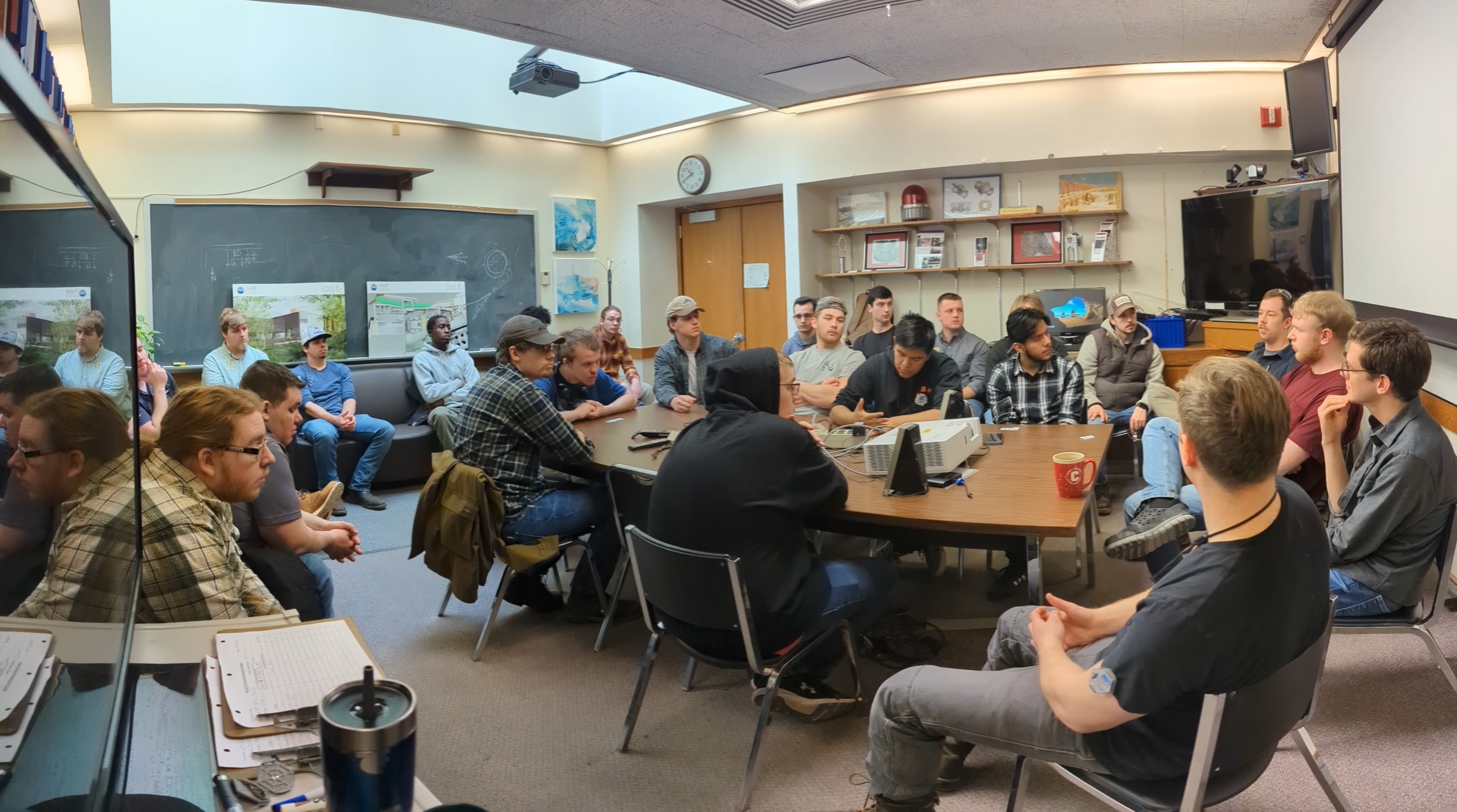 Dennis Aikens, Assistant Professor of Mechatronics at SUNY Delhi noted, "having the opportunity to witness firsthand what our interns and graduates have been working on was an eye opening experience for our current students and faculty within the Mechatronics major."
A tour of the facility and connecting with former interns will help them as they decide where to apply for their upcoming internships. A particle accelerator like the one at CHESS, and the technology needed to drive it, is a perfect case-study for the diverse coursework of the program offered at SUNY Delhi. CHESS looks forward to each year's extremely capable cohort of SUNY Delhi interns each summer.
"All of our students had a fantastic time on our tour at CHESS," said Wegner. "getting to see Wilson lab and being able to connect to former graduates of the program. Both the faculty and students here at Delhi are extremely grateful for the opportunities you've been able to provide us!"