What did the scientists discover?
CHEXS scientists and collaborators have developed, prototyped, built, and tested a compact variable-gap undulator with hydraulic-assist driver and innovative hybrid magnetic structure. The hydraulic system provides efficient compensation of large magnetic forces from the undulator permanent magnet arrays, which allows a more compact design when compared to existing commercial undulators. Use of an innovative magnetic structure gives this "super CCU" undulator a peak magnetic field ∼15% stronger than conventional variable-gap hybrid-structure undulators, and 40% stronger than the standard CCU devices which currently provide x-rays to all the CHEXS beamlines.
Why is this important? What are the broader impacts of this work?
The sCCU is a more versatile and efficient x-ray source for the next generation of CHEXS beamlines. The new HMF beamline which is currently being constructed plans to use 2 sCCUs with distinct magnetic periods. This will more than double the photon flux relative to first generation CCUs over a wider x-ray energy range, while also reducing the heat load on the x-ray optics. sCCUs promise an upgrade path towards brighter beams for all CHEXS beamlines in the future. This new cost-effective undulator design also shows a way forward for other lightsources, to reduce costs associated with insertion devices without sacrificing any functionality.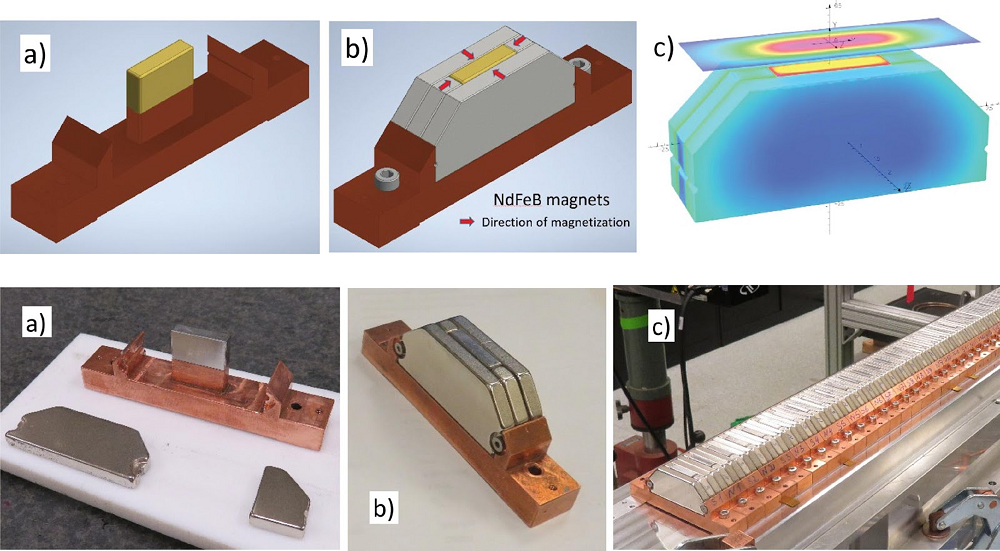 Why did this research need CHESS?
In addition to the four beamline programs, CHEXS has a mission to advance x-ray technology.  A flagship aspect of the CHEXS X-ray R&D program is the continued development of novel undulator insertion devices. CHEXS remains one of the few places in the world where new undulator designs are developed, prototyped, and tested.  Previous Cornell undulators have been licensed to industrial partners and commercialized. CHESS undulator designs have also been adapted and  implemented at other lightsources.

How was the work funded?
The research and development of this work was supported by the National Science Foundation (NSF) under award DMR-1829070.
CHEXS acknowledges collaboration with partners from Pine Hollow Auto Diagnostics.
Reference:
ScienceDirect, Volume 1039, 2022; https://doi.org/10.1016/j.nima.2022.16709