What is the discovery?
This paper addresses the experimental situation by applying a fluorescence coincidence technique to pluck the anticipated signal out of noise, taking advantage of the intense incident photon flux of a contemporary synchrotron radiation source; exploits advanced x-ray detectors which provide arrival time as well as energy information, and employs extraordinarily thin metal targets to minimize secondary effects. The surprising result is that in testing for the radiation expected from the innermost shell of copper with a 46 keV incident x-ray beam no such signal was observed at a sensitivity level that is over five sigmas below the predicted rate, taking into account the expected secondary signal, and below four sigmas if no particular secondary modeling is assumed.  In this work observations were made in the scattered photon energy range of 3 to 7 keV.
Why is this important? 
Echoing classical physics, quantum electrodynamics predicts the release of a spectral continuum of electromagnetic radiation upon the sudden acceleration of charged particles in quantum matter. Despite apparent theoretical success in describing sister nuclear processes, known as internal bremsstrahlung, following nuclear beta decay and K capture, the situation of the photoejection of an electron from an inner shell of an atom, intraatomic bremsstrahlung (IAB), is far from settled. This exciting result is especially unexpected given that the sister nuclear process, internal bremsstrahlung, due to beta particle emission, has been reported and apparently well understood since the 1960's.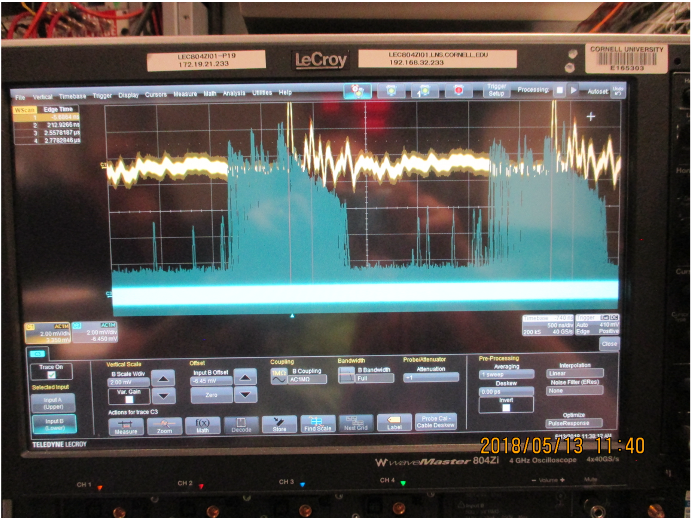 Why did this research need CHESS?
Besides providing all the infrastructure: monochromated beams (at sufficiently high energy to minimize the secondary background and high flux to provide sufficient statistics), contemporary detectors and data acquisition system, large scale computing facility to reduce the data, generous support for students and supplies, CHESS provided the incredible staff that gave wise and patient guidance every step of the way: from initial design of the experiment, pointed but constructive criticism of intermediate results and  maximal exploitation of beamtime over three attempts. Of special note was the aid in developing a custom setup, including all the preliminary testing (including bench testing of the system with a radioactive source). The camaraderie of the lab even made the setbacks a cherished experience and incredible  training for all of us. Hearty Thanks CHESS!!!
How was the work funded?
This work is based upon research conducted at CHESS which was supported by the National Science Foundation under award DMR-1332208. This work made use of the Cornell Center for Materials Research Shared Facilities which are supported through the NSF MRSEC program under award DMR-1719875. 
Reference:
Testing for the continuous spectrum of x rays predicted to accompany the photoejection of an atomic inner-shell electron; Jacobson, Philip and Rasovic, Andrija and Campello, Arthur and Goddard, Chase and Dykes, Matthew and Chen, Yuchao and Ko, J. Y. Peter and Stoupin, Stanislav and Gardner, Gwen and Oh, Justin and Franck, Carl, Phys. Rev. A, 104, 042809 (2021); https://journals.aps.org/pra/abstract/10.1103/PhysRevA.104.042809?ft=1