What is the discovery?
Intertwining quantum order and non-trivial topology is at the frontier of condensed matter physics. In a new paper appearing in the journal Nature Materials, a team lead by M. Zahid Hasan from Princeton University reports the discovery of an unconventional chiral charge order in a kagome material, KV3Sb5. This material exhibits both a topological band structure and a superconducting ground state. The team used scanning tunneling microscopy and high energy x-ray diffraction to identify the details of the chiral phase. An energy gap is observed to open at the Fermi surface when the charge order forms, and the underlying unit cell is seen to double, both in-plane and out-of-plane. This new chiral phase can potentially lead to a large anomalous Hall effect with orbital magnetism and be a precursor of unconventional superconductivity.
Why is it important?
Charge-density-wave-like order with orbital currents has previously been proposed for achieving the quantum anomalous Hall effect in topological materials and as a hidden phase in cuprate high-temperature superconductors.  However, experimental realization of such an order is challenging. KV3Sb5 is a new model system to investigate these effects. Indeed, since the original observation of the chiral phase via STM, several other members of this same family of Kagome materials have been reported to show similar charge-ordered and superconducting behavior. Theoretically, these new kagome materials have many competing electronic instabilities at play, related to the saddle-points in their band structure, and significant experimental work is required to understand their phenomenology.
Why did this research need CHEXS?
The <QM>2 beamline at CHEXS is dedicated to uncovering and characterizing subtle ordered states in quantum materials at low temperatures. The topological charge ordered phase in KV3Sb5 was discovered using STM measurements at Princeton, however, these measurements were unable to conclusively determine the out-of-plane ordering wavevector and prove the bulk, 3D, long range nature of the charge order. X-ray measurements at CHEXS demonstrated that the phase identified at Princeton is indeed bulk 3D and further identified that the unit cell is doubled in the out-of-plane direction.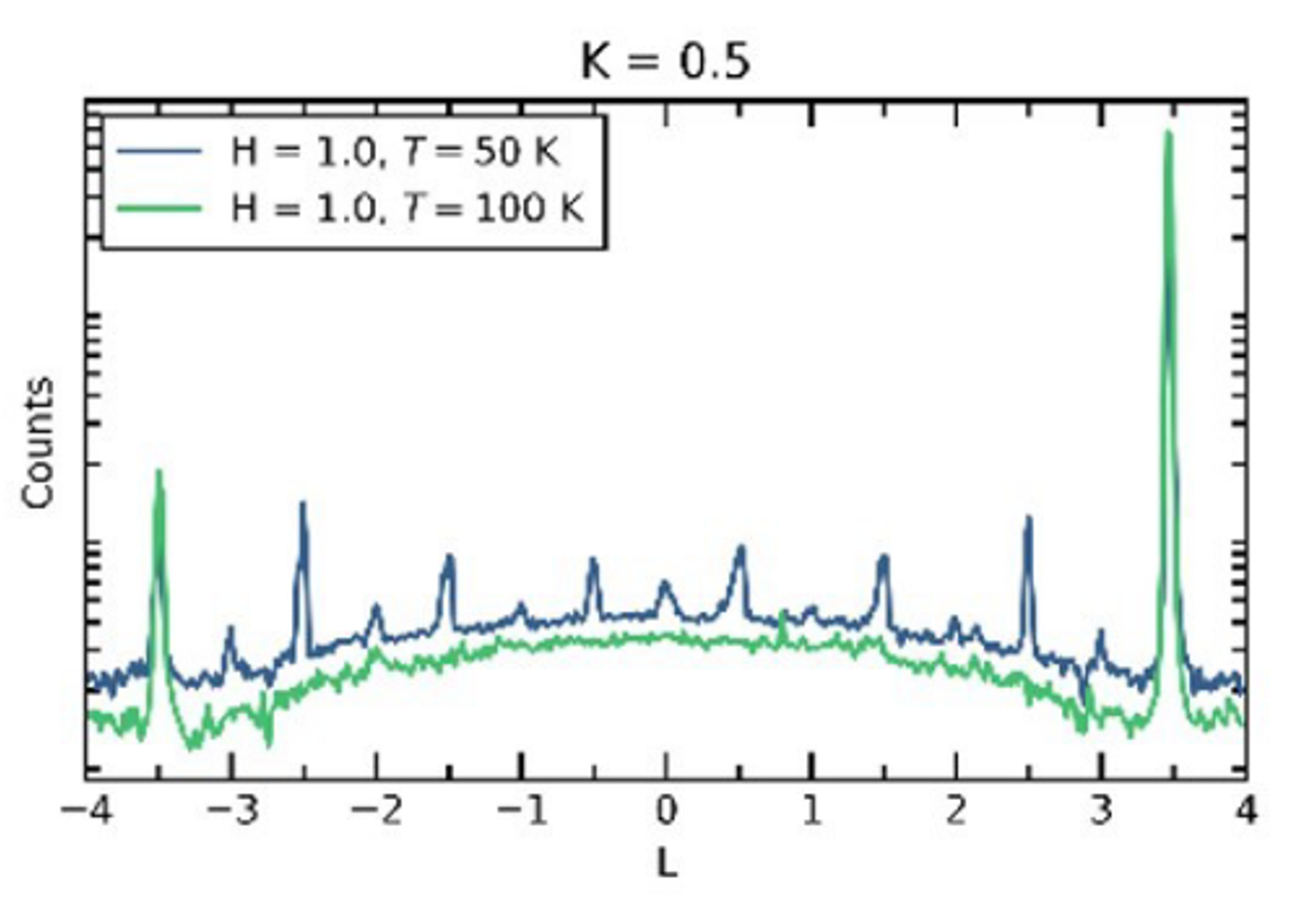 How was the work funded?
Experimental and theoretical work at Princeton University was supported by the Gordon and Betty Moore Foundation (GBMF4547 and GBMF9461). Material characterization supported by the US DOE BES (DOE/BES DE-FG-02-05ER46200). S.D.W. and B.R.O. acknowledge support from the University of California Santa Barbara Quantum Foundry, funded by the National Science Foundation (NSF DMR-1906325). Research reported here made use of the MRSEC at University of California Santa Barbara (NSF DMR-1720256). B.R.O. acknowledges support from the California NanoSystems Institute through the Elings fellowship programme. R.T. is funded by the Deutsche Forschungsgemeinschaft through project ID 258499086 – SFB 1170 and the ct.qmat project ID 390858490 – EXC 2147. T.N. acknowledges support from the EU's Horizon 2020 research and innovation programme (ERC-StG-Neupert-757867-PARATOP). Work at Boston College was supported by the US DOE, BES grant number DE-FG02-99ER45747. T.A.C. was supported by the National Science Foundation Graduate Research Fellowship Program under grant no. DGE-1656466. Research conducted at the Center for High Energy X-ray Sciences is supported by the National Science Foundation under award DMR-1829070. G.C. acknowledges support of the National Research Foundation, Singapore under its Fellowship Award (NRF-NRFF13-2021-0010) and the Nanyang Assistant Professorship grant from Nanyang Technological University. G.X. was supported by the National Key Research and Development Program of China (2018YFA0307000) and the National Natural Science Foundation of China.
Reference:
Unconventional chiral charge order in kagome superconductor KV3Sb5
Y-X Jiang, J-X Yin, MM Denner, N Shumiya, BR Ortiz, G Xu, Z Guguchia, J He, MS Hossain, X Liu, JPC Ruff, L Kautzsch, SS Zhang, G Chang, I Belopolski, Q Zhang, TA Cochran, D Multer, M Litskevich, Z-J Cheng, XP Yang, Z Wang, R Thomale, T Neupert, SD Wilson and MZ Hasan
Nature Materials (2021); https://doi.org/10.1038/s41563-021-01034-y