What is the discovery?
The properties of the charge-density-wave (CDW) phase in the material EuTe4 depend on thermal history in an unprecedented and record-breaking way. CDW order in quantum materials is both ubiquitous and complex. In EuTe4, (Fig1a) both the size of the charge modulation and the electronic properties of the metal (like resistivity) exhibit hysteresis – the properties at a given temperature depend on whether the sample was previously cooled from a higher temperature or warmed from a lower one. While this is true of many charge and spin ordered materials, the range of temperature over which the hysteresis extends in EuTe4 is remarkable. In a new paper appearing in Physical Review Letters, research co-first-authored by postdoctoral fellows Baiqing Lyu (MIT) and Alfred Zong (Berkeley) and a team lead by Prof. Nuh Gedik (MIT), claim that EuTe4 sets a new record for hysteresis in a crystalline solid. Using a combination of transport, photo-emission, and synchrotron x-ray diffraction (Fig1b), they observe a "minor loop" extending from T=40K to T=400K (Fig 2), and a major loop extending beyond 500K. The unusual persistence of this metastable behavior over such a wide temperature range is proposed to arise from the three-dimensional re-arrangement of quasi-two-dimensional CDW slabs in EuTe4.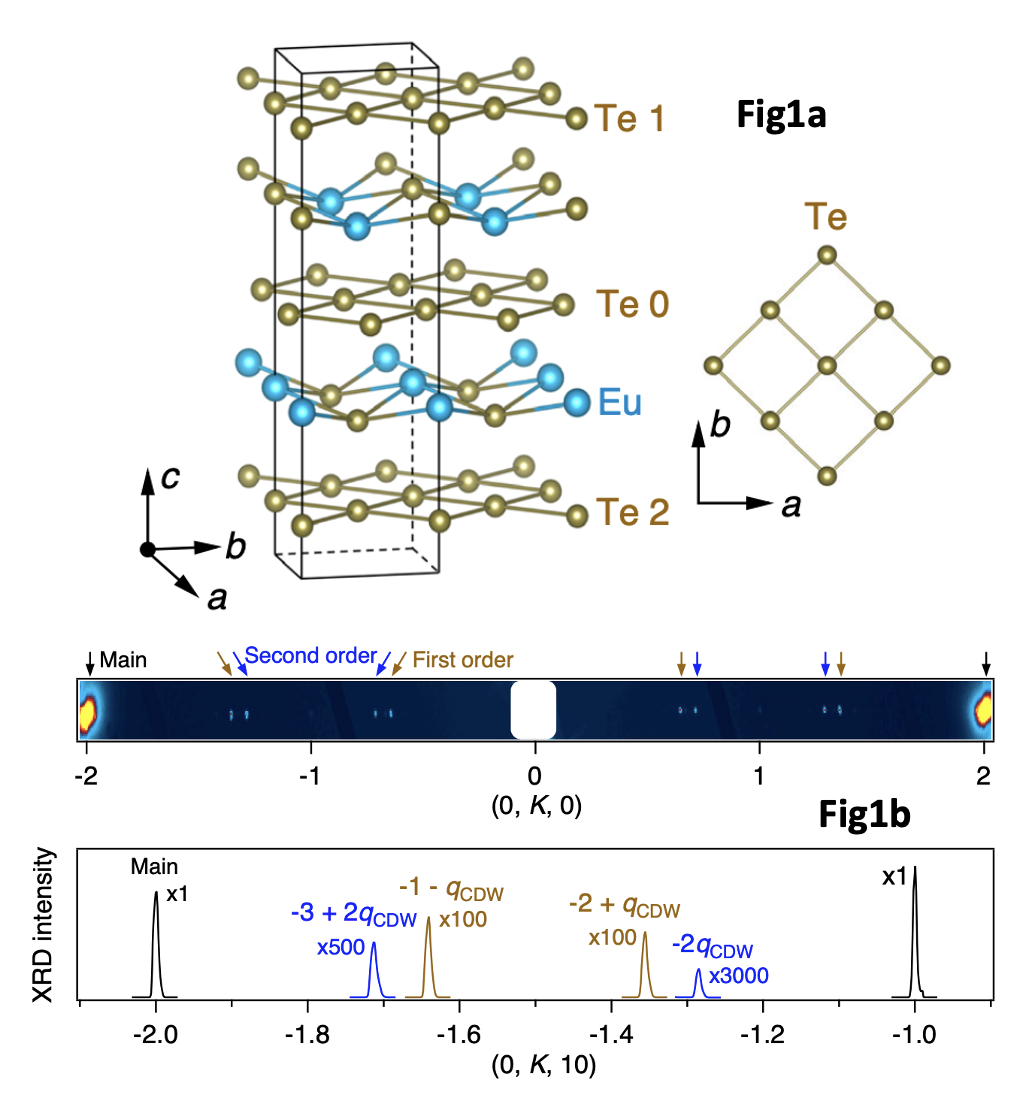 Why is it important?
These findings open the possibility of manipulating the rich internal structure of CDWs, raising numerous opportunities for quantum device application that capitalizes on the wide temperature range of the metastable behavior. Future work will explore techniques to switch between metastable CDW phases with distinct electronic properties.
Why did this research need CHEXS?
The QM2 beamline at CHEXS is dedicated to rapid discovery and characterization of exotic quantum phases. This work was enabled by bright CHESS Compact Undulator beams of high-energy x-rays, and by the large Pilatus6M detector at QM2, which together facilitate efficient mapping of subtle electronic ordered states over a wide range of temperatures. The wide temperature range gas cryocooler system at QM2 allows samples to be comprehensively studied from 12K to 500K.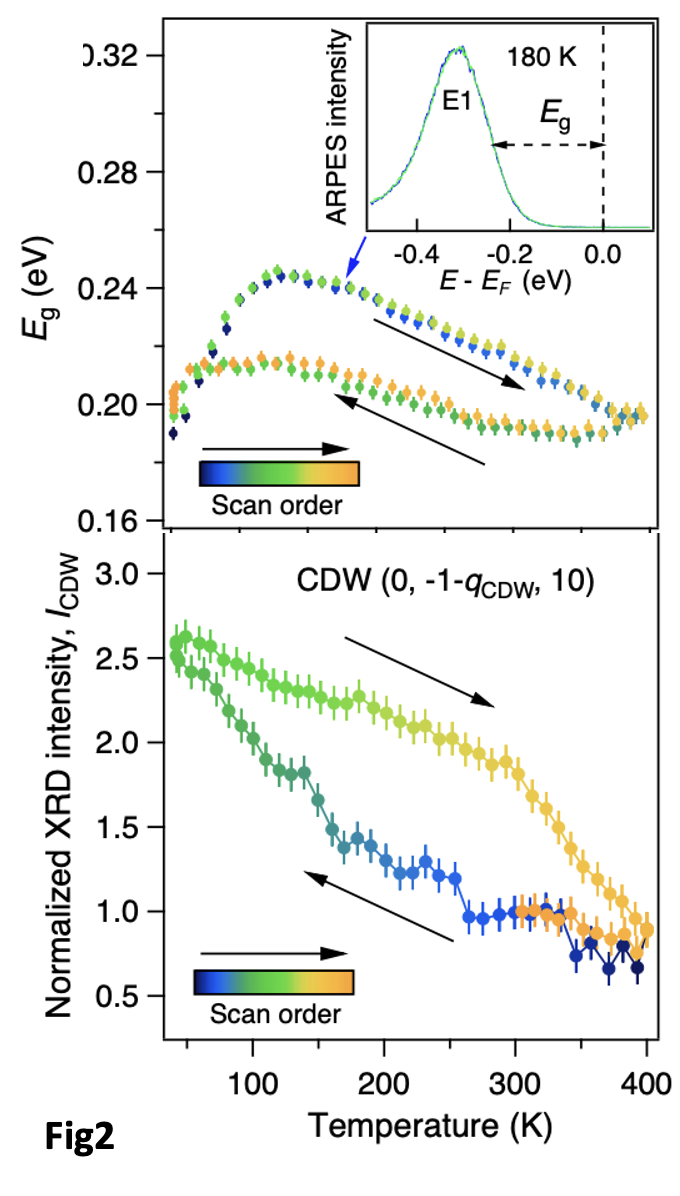 How was the work funded?
US DOE BES (MSE, DE-AC02-06CH11357, DE-AC02-05-CH11231, DE-AC02-76SF00515)
National Science Foundation (DMR-1809815, DMR-0819762, ECCS-1541959, DMR-2038011)
Gordon and Betty Moore Foundation EPiQS Initiative (GBMF9459, GBMF9643)
The Center for High Energy X-ray Sciences (CHEXS), NSF (DMR-1829070)
Reference:
Unconventional Hysteretic Transition in a Charge Density Wave
BQ Lv, A Zong, D Wu, AV Rozhkov, BV Fine, S-D Chen, M Hashimoto, D-H Lu, M Li, Y-B Huang, JPC Ruff, DA Walko, ZH Chen, I Hwang, Y Su, X Shen, X Wang, F Han, HC Po, Y Wang, P Jarillo-Herrero, X Wang, H Zhou, C-J Sun, H Wen, Z-X Shen, NL Wang, and Nuh Gedik
Physical Review Letters 128, 036401 (2022); https://doi.org/10.1103/PhysRevLett.128.036401