What did the scientists discover?
Two-dimensional (2D) scans of the heat-affected zone (HAZ) adjacent to distinct fillet weld regions showed the effects of fabrication on the resultant residual strain. The Energy Dispersive Diffraction (EDD) technique made it possible to penetrate through up to 3.8 cm (1.5 in) of steel to generate the datasets. Comparison of the X-ray data to a finite-element analysis (FEA)- generated computer model showed high levels of agreement for both of the areas scanned.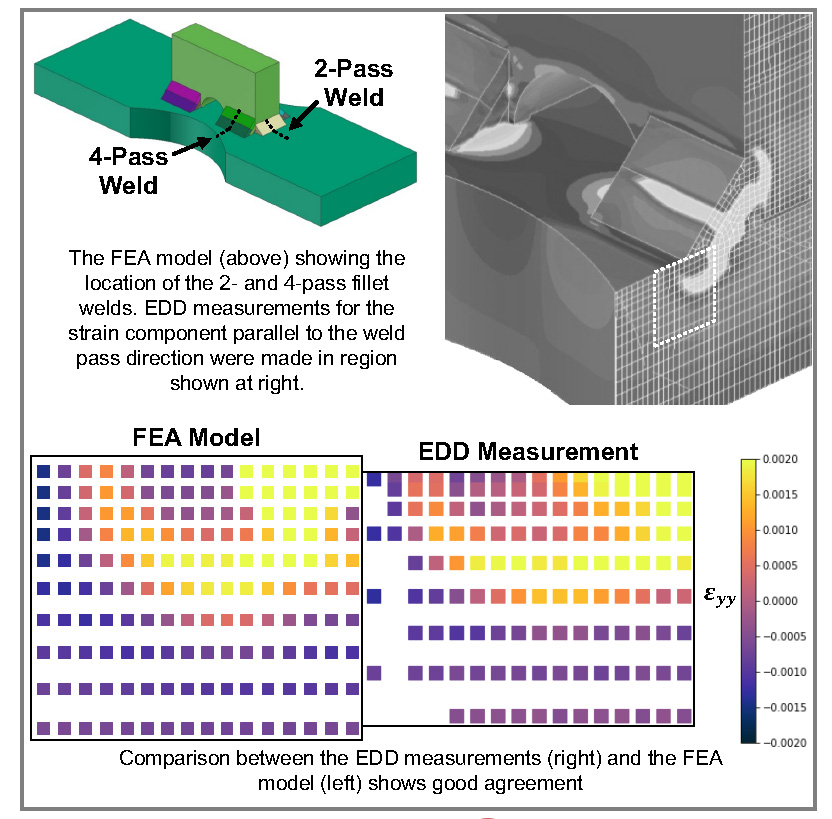 What are the broader impacts of this work?
The U.S. Navy is seeking to establish digital twin prototypes across the Fleet, which will require material processing data (residual stress and distortion) included in the input model to increase accuracy of the lifecycle analysis. This work will establish the evolution of residual stress across numerous steps throughout the fabrication process: incoming plate, postmachining, and post-welded assembly.
Why is this important?
Residual stress induced from processing and fabrication can cause severe degradation of material and structural performance. However, quantification of accumulated stress and its distribution throughout the shipbuilding process is not well characterized. The X-ray testing yielded strain data able to be used for verification and validation (V&V) of FEA models of various manufacturing steps: plate rolling and heat treatment, cutting, grinding, and welded fabrication.
Why did this research need MSN-C & CHESS?
The measurements described here were performed using white-beam energy-dispervive diffraction (EDD) at the Structural Materials Beamline at MSN-C, and amount to atomic scale measurements through as much as 1.5" of steel. Such  measurements depend critically on the high intensity, high energy x-ray beams available at CHESS,  and could not be conducted at existing U.S. Navy or Department of Defense (DoD)  facilities.
How was the work funded?
The X-ray analysis work is based upon research conducted at the Materials Solutions Network at CHESS (MSN-C) which is supported by the Air Force Research Laboratory (AFRL) under award FA8650-19-2-5220. The material fabrication and welding simulations were conducted at the Naval Surface Warfare Center, Carderock Division (NSWCCD) under Naval Innovative Science and Engineering (NISE) Section 219 funding.
For further information, please contact Kelly Nygren