The morning session consisted of lecture-style presentations delivered by Arthur Woll, covering theoretical background and practical considerations regarding XRF signal generation, x-ray detection, and data analysis. For the afternoon portion, Louisa Smieska led a hands-on demonstration of the GeoPIXE software used with the CHESS Maia detector.
All attendees, including those local to Ithaca, participated in the workshop via either WebEx or Youtube streaming. This format allowed new CHESS users to gain experience with remote data analysis, as is possible after CHESS beamtime, before collecting any data themselves. The morning and afternoon presentations were recorded with Youtube. Slides and links to the Youtube videos are available by request (contact Louisa Smieska, lmb327@cornell.edu). Thanks are due to Shijie Yang and the CHESS IT team for their assistance with streaming software and preparing user accounts before the webinar.
Of the nine webinar participants, two researchers each completed their first run of CHESS XRF mapping beamtime with the Maia detector at F3 in May. Pictured is Patrick Ravines, professor of art conservation at Buffalo State College, examining daguerreotypes and platinum prints at CHESS (objects and digital photos courtesy of Rob McElroy, Archive Studio, Buffalo, NY). The mercury XRF map below clearly shows the image particles in the daguerreotype despite the blemishes on the image surface. Two other participants are scheduled for their first XRF mapping experiments in mid-June.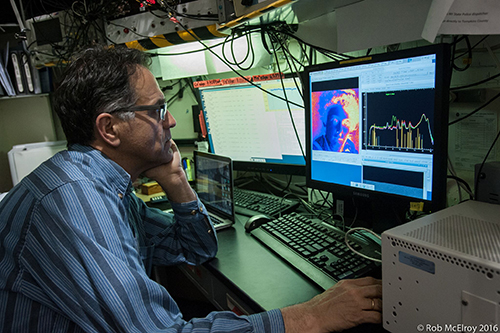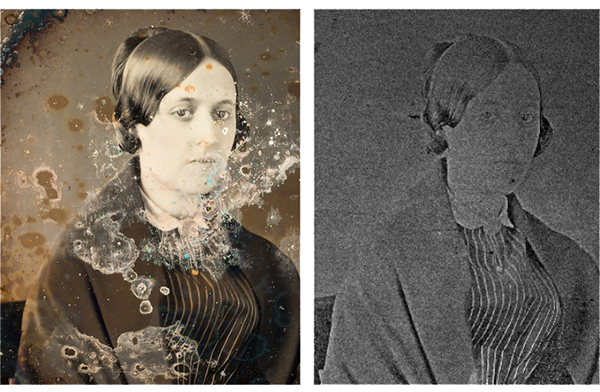 In conjunction with work attracting and training new users, we have also been working closely with users who have already collected XRF mapping data to assist in analysis. The two attendees with previous CHESS XRF mapping experience found the webinar a useful conceptual review and appreciated the tutorial in GeoPIXE. To support our existing users, the webinar highlighted a new resource on the CLASSE Wiki dedicated to macro-XRF data collection with the Maia detector and data analysis in GeoPIXE, located at https://wiki.classe.cornell.edu/CHESS/Maia/WebHome. Not surprisingly, we have found that researchers who are empowered to explore theoretical background concepts and complex analysis software before coming to CHESS are better prepared for their experiments and are more able to maximize the use of their beamtime. We are excited about the potential of webinars like this for improving future CHESS users' experiences, with the ultimate goal being to train a small number of expert users in frequent user groups who can lead complex data analysis independently.