Two new detectors developed by Sydor Technologies are now available for user experiments at CHESS. These detectors, the Mixed-Mode Pixel Array Detector (MM-PAD) [1] and Keck-PAD [2], were based on prototypes originally created by the Cornell Detector Group, currently lead by Professors Sol Gruner and Julia Thom-Levy. After many years and millions of dollars of development, these next generation detectors are now in a robust commercial implementation and ready to enable novel experiments not possible before. It is the perfect time for early career scientists and experienced users to take advantage of these cutting-edge systems that were purpose built for the demanding experimental conditions at synchrotrons. End user engagement at this stage will provide unique experimental opportunities and advance the next generation of detector science.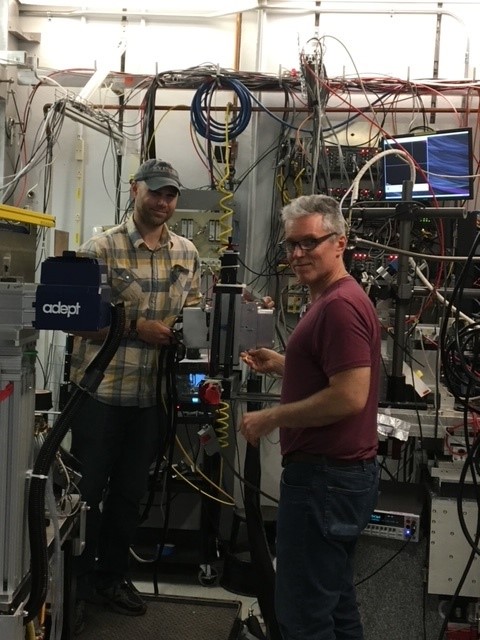 Sydor routinely partners with national labs and universities to develop next generation commercial detectors. They seek to find groups like the Cornell Detector Group who are longstanding leaders in cutting edge x-ray detector science. This type of partnership allows detector scientists to push the frontiers of technology while Sydor creates a robust supported system available to a broad array of experimenters, far beyond what the original research group is capable of supporting.  
Sydor and the Cornell Detector Group worked with CHESS staff and users throughout both the original and commercial development of the MM- and Keck-PADs. CHESS served as a crucial venue for system testing and and has been the site of many user experiments involving the Cornell MM- and Keck-PAD prototypes, including time-resolved studies of combustion in reactive metal foils [3], dynamic compression of magnesium [4], and residual stresses in titanium alloys [5]. Now, Sydor is seeking to bring the benefits of the commercialized systems to users at CHESS. End users rely on the latest and greatest technology to do novel research. Their input on these currently available systems will drive future development efforts and ultimately enable more advanced experiments.
"We want to help end users and beamline scientists remove barriers between implementing these new detectors and collecting data," says Dr. Ben Martin the Technology Development Manager at Sydor.
The MM-PAD has a maximum frame rate of 1.1 kHz, single x-ray sensitivity, > 107 (8 keV)x-rays/pixel well capacity, and the ability to measure sustained photon rates of >108 x-rays/pixel/s and instantaneous rates of > 1012 (8 keV)x-rays/pixel/s – far beyond what is possible with most photon-counting area detectors.Sydor's commercial development increased the detector area from 256x384 pixels in the Cornell prototype to 512x512 pixels, and provides a robust user interface with command line/bash scripting and a graphical user interface. It is well suited for experiments that require any or all of: time resolution down to the millisecond scale,  many hours of continuous data collection, and a large dynamic range, for example to measure Bragg and diffuse scatter together in a single image. 
Experiments involving phenomena at sub-millisecond time scales, or that involve irreversible phenomena, present specific challenges that the Keck-PAD has been designed to solve. The Keck-PAD is well suited to support the pulse rep rates of a storage ring because it has in-pixel capacitors store data for up to eight individual frames. This allows for data collection at a burst rate up to 10 MHz, followed by a slow readout process. Each of the eight frames can be programmed with a unique integration and interframe time to capture specific events.
As CHESS relishes in the post-CHESS-U capabilities of higher energies, the accelerator team is now looking to add a new operating mode to the storage ring which will be well suited for the Keck-PAD: a so-called "timing mode", in which  the accelerator would operate with isolated bunches separated by about 100-200 ns. In contrast, the accelerator presently operates with a more complex fill pattern involving trains of closely-spaced, smaller bunches. By capturing the signal from a single isolated bunch, one can obtain a snapshot of their experiment with time resolution dictated by the bunch length (typically ~10-100 ps); a fast enough detector would allow users to take one of these snapshots every time a bunch passes by. This opens up exciting possibilities for experiments involving shock physics, the functioning of certain proteins, and other dynamic systems. The 10 MHz burst frame rate of the Keck-PAD is ideally suited to the fill patterns under development for a CHESS timing mode.
"Does our user base want to do more time resolved experiments? Or measure phenomena on faster time scales than they have been?" asks Kate Shanks, CHESS staff scientist, and former research associate at Cornell's detector group, who has helped with the development of the MM- and Keck-PAD detectors. "And if they do, then these detectors are well worth investing in, and these detectors may in fact be critical in doing these types experiments in the future."
In the next few months Sydor aims to identify a few target user experiments at CHESS where researchers are interested in pushing the detectors to their limits.
"In order to really push these detectors, we want to get users engaged and committed to a non-standard user experiment at CHESS," says Shanks.  "Which is, after all, the majority of experiments that we run anyways."
----------------
[1] M.W. Tate, D. Chamberlain, K.S. Green, H.T. Philipp, P. Purohit, C. Strohman, S.M. Gruner. A medium-format, mixed-mode pixel array detector for kilohertz x-ray imaging. Journal of Physics: Conference Series. 425 (2013) 062004
[2]Hugh T. Philipp, Mark W. Tate, Prafull Purohit, Katherine S. Shanks, Joel T. Weiss and Sol M. Gruner (2016). High-speed x-ray imaging pixel array detector for synchrotron bunch isolation with frame rates up to 10 MHz. J. Synchrotron Radiation. 23: 395-403
[3] C. J. Hustedt, P. K. Lambert, E. L. Huskins-Retzlaff,  D. T. Casem, M. W. Tate,  H. T. Philipp,  A. R. Woll,  P. Purohit,   J. T. Weiss, S. M. Gruner,  V. Kannan,  K.T. Ramesh, and T.C. Hufnagel. In situ time-resolved measurements of extension twinning during dynamic deformation of polycrystalline magnesium. J. of Dynamical Behavior of Materials.44 (2018) 222-230.
[4] K.R. Overdeep, H. Joress, L. Zhou, K.J.T. Liv, S.C. Barron, M.D. Grapes, K.S. Shanks, D.S. Dale, M.W. Tate, H.T. Philipp, S.M. Gruner, T.C. Hufnagel, and T.P. Weihs. Mechanisms of oxide growth during the combustion of Al:Zr nanolaminate foils. Combusition and Flame 102 (2018) 442-452.
[5] Chatterjee, A. J. Beaudoin, P. Ko, H. Philipp, J. Becker, P. Purohit, J.T Weiss, S. M. Gruner. Study of residual stresses in Ti-7Al using theory and experiments. Journal of the Mechanics and Physics of Solids 109 (2017) 95-116.