What is the new work?
The HP-Biology project supports study of macromolecules' response to pressure in both solutions and crystals. The former case is studied by biological small-angle X-ray scattering (BioSAXS) and has produced important results, as reported in previous news. However, BioSAXS does not provide structural information at the atomic scale; for this it is necessary to use another technique: X-ray crystallography at high pressure (HP-MX). Thanks to an effort led by staff scientist Zhongwu Wang, with the help of MacCHESS scientists and technical staff, the capability for HP-MX at the FlexX (flexible crystallography) station, ID7B2, has now been developed to the point at which crystal structures can be obtained at pressures of several thousand atmospheres. The method uses a diamond anvil cell (DAC) especially configured to maintain protein crystals at a precisely determined pressure. Structures have recently been determined for the protein β-lactoglobulin at room pressure and at 3,000 atmospheres, allowing analysis of the subtle but important changes produced by high pressure.

Why is this important?
Investigation of macromolecules under high pressure can help answer questions about how organisms can survive under the earth, in the depths of the ocean, and perhaps even on other planets. The method can guide deductions about the conditions under which life originated. We can also learn how proteins fold into their proper shapes (pressure causes many proteins to unfold) and how enzymatic reactions are controlled (intermediate states can potentially be trapped by pressurization). Practical applications are possible if we can better understand how pressure-processing of foods changes the characteristics of their constituents.
What are the broader impacts of this work?
The HP-MX facility at CHESS is available, in a collaborative mode, to researchers with scientific questions that might be answered by the application of pressure to their macromolecular crystals.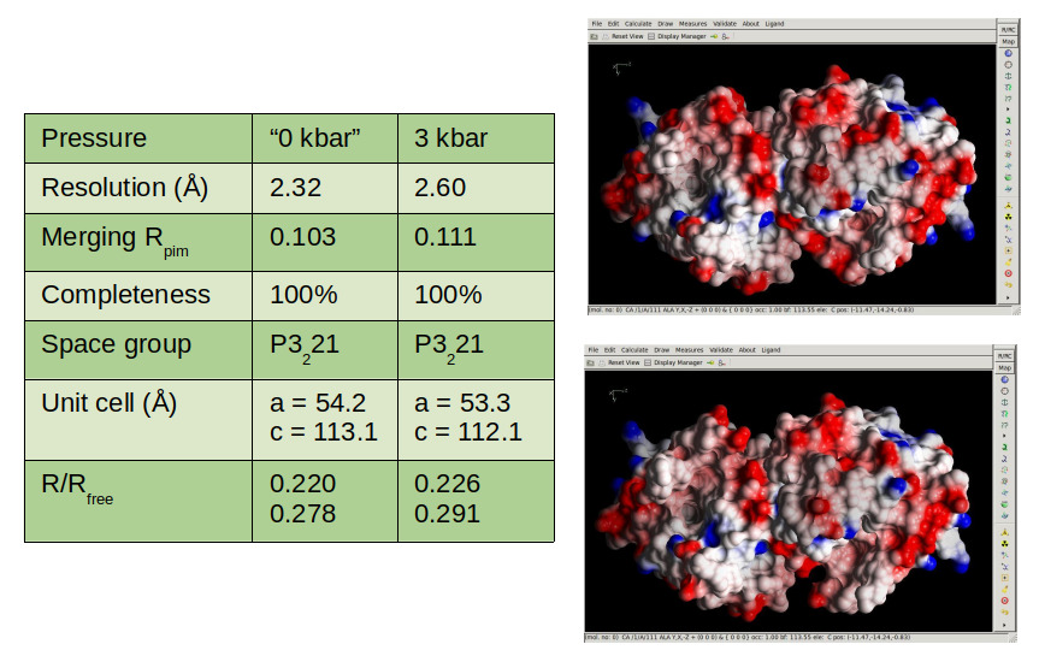 Why did this research need CHESS?
The HP-MX facility at ID7B2 station is one of only a few in the world capable of examining the effects of pressure on protein crystals. 
How was the work funded?
Funding was provided by National Science Foundation grant DMR-1829070 to CHEXS, and by NIH grant P30-GM-124166 and NYSTAR funding to MacCHESS.