Cornell University's High Energy Synchrotron Source (CHESS) recently hosted a multi-day workshop on High Energy X-ray Techniques (HEXT) from May 16 to 17, 2023. The workshop was funded by the National Science Foundation and aimed to introduce students from the Partnership for Research and Education in Materials (PREM) program to synchrotron methods, emphasizing their applications to a wide variety of research questions.
This workshop attracted 19 students from eight different universities in eight states and Puerto Rico.  The undergraduate and graduate students who attended represented a wide variety of disciplines and majors in the scientific fields, ranging from physics and chemistry, to materials science, mechanical engineering, and nanoscale systems.
The workshop focused on the fundamental components of synchrotron research, providing students with a comprehensive understanding of synchrotron techniques used at CHESS and other synchrotrons around the world. The students were able to learn directly from CHESS staff scientists who shared their expertise and knowledge on various synchrotron techniques, providing students with comprehensive training in these fields.
Jacob Ruff, Director of CHEXS, introduced students to an overview of synchrotrons and X-rays, delivering a summary of the impact and capabilities of these critical research tools.
Amlan Das, a Postdoc at the FAST beamline, guided students through the intricacies of scattering techniques, shedding light on the principles and applications of this essential method.
Louisa Smieska, a staff scientist at FMB, delved into the realm of imaging techniques, equipping students with the necessary skills to capture detailed visual representations of material structures. Through her guidance, participants gained valuable insights into the power of imaging in synchrotron research.
The workshop also featured Chris Pollock, a staff scientist at PIPOXS, who navigated the use of spectroscopy. With his comprehensive knowledge, Pollock shared the intricacies of this technique and its applications in studying the properties and behavior of materials at the atomic and molecular levels.
Jeney Wierman, Director of MacCHESS, brought her wealth of experience to the workshop, teaching students about crystallography. With Wierman's guidance, participants learned how to analyze diffraction patterns to uncover vital information about materials and their properties.
These sessions, while elaborate, served as a stepping stone for the students, ensuring that the material was accessible to participants with varied backgrounds and scientific interests.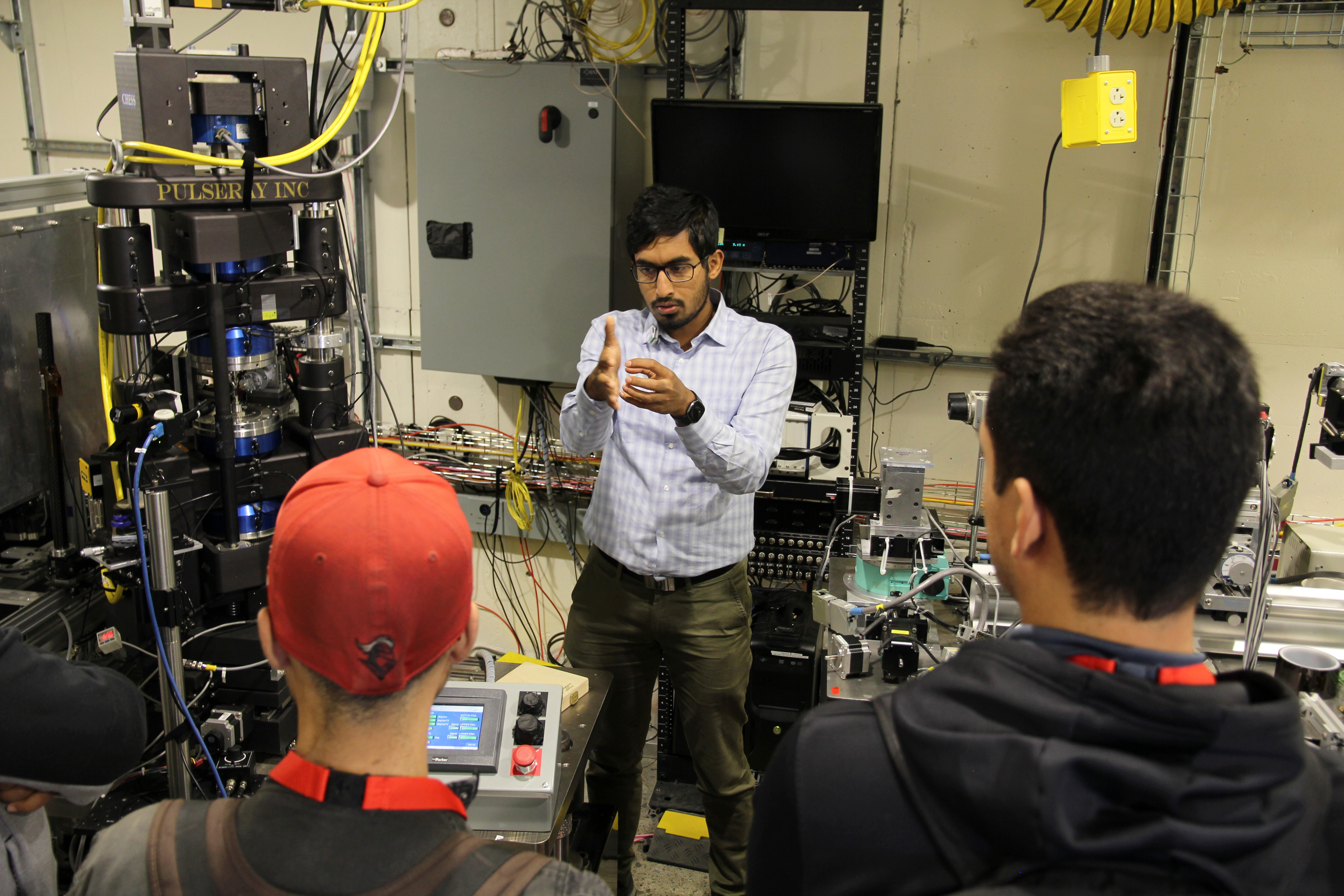 Following these lectures, CHESS scientists Suchi Sarker and Chris Pollock featured hands-on demonstration experiments at the QM2 and PIPOXS beamlines, where participants gained practical experience by collecting and processing data on real samples.  Richard Gillilan and Louisa Smieska also demonstrated the HP-Bio beamline and FMB beamline, respectively.  This opportunity allowed students to familiarize themselves with how synchrotron experiments "really work", including sample preparation, data acquisition, raw data processing, and interpretation of results. 
The goal was to teach participants about synchrotron methods and equip them with the knowledge and skills needed to compete for beamtime at CHESS successfully.  To this end, the HEXT workshop featured a talk by Ernest Fontes, who provided instruction and coaching on writing successful proposals for beamtime, equipping the participants with the skills needed to compete effectively in the CHESS proposal process. By emphasizing proposal writing, the HEXT workshop empowered students to strategically plan and conduct experiments that address their specific research questions, ultimately bringing a more diverse group of researchers to places like CHESS.
Beyond its practical impact, the HEXT workshop aimed to foster a broad and inclusive synchrotron user community. By partnering with the PREM program, the workshop provided opportunities for individuals from underrepresented groups to engage with synchrotron research and CHESS staff.
"Our goal is to attract and train the next generation of CHESS users and x-ray scientists from the PREM graduate student communities," says Chris Pollock, CHESS Staff Scientist and organizer of the workshop. "We focus on the fundamentals of synchrotron science so participants can grasp the main ideas of these techniques and apply them to their specific research."
Ariam J. Acevedo López, a visiting University of Puerto Rico student, says that participating in the HEXT workshop was a memorable experience. "I loved having hands-on experience with the beamlines and working with the welcoming and wonderful people at CHESS," says Acevedo López.  "I highly recommend this experience."
Partnering institutions of HEXT 2023 include:
California State University, Long Beach (CSULB)

Delaware State University

Louisiana Tech University

North Carolina Agricultural and Technical State University

University of Central Florida

University of Hawaii at Manoa

University of Puerto Rico- Rio Piedras Campus

University of Puerto Rico-Humacao

University of Texas at Arlington

University of Texas Rio Grande Valley